Way Of The Circle Centre
We host transformative experiences that awaken us to our gifts and inspire heart-led action in our families, our communities, and on our planet for a beautiful & sustainable future.
Way of the Circle Centre empowers us to dream, connect, explore, and create.. Connecting with our hearts, stepping into nature, and claiming our space in the circle, we celebrate the infinite potential of what we can achieve together.
Our core program is called the Heart Wisdom Healing Retreats, a series of four seasonal retreats that participants can attend in any order. These 4-day immersive gatherings create a deep dive into personal growth that help us embody what it takes to lead an authentic, heart-centred life. It is through the genuine practice of self care and tools of transformation that we can tend to others in a sustainable way.
When participants are ready to go further, they are welcomed to co-create the next spiral level, a year-long mentorship in shared leadership. Learning to work in the Way of the Circle is an apprenticeship in the integrity of natural systems and cycles. It is through these collective energies that we come to understand sustainability and how to balance inclusion and diversity, safety and growth.
Learn More:
Go Deeper:
Read Circle Member Stories

To Gain insight from our Triggers, we have to look deeperThese guidelines can help you discover deeper meaning and restore harmony. While tending her garden Martha shares how things that trigger us can be opportunities that are ripe for insight and healing. In our Heart Wisdom Healing Retreats, our leadership team and participants are immersed…
One of the earliest teachings I heard as a student of shamanism was that the drum was the horse we rode to journey to Spirit. We are carried upon that beating heart into the cosmos of possibility where teachers are met, questions are posed, and deep listening occurs. When I was invited to join my…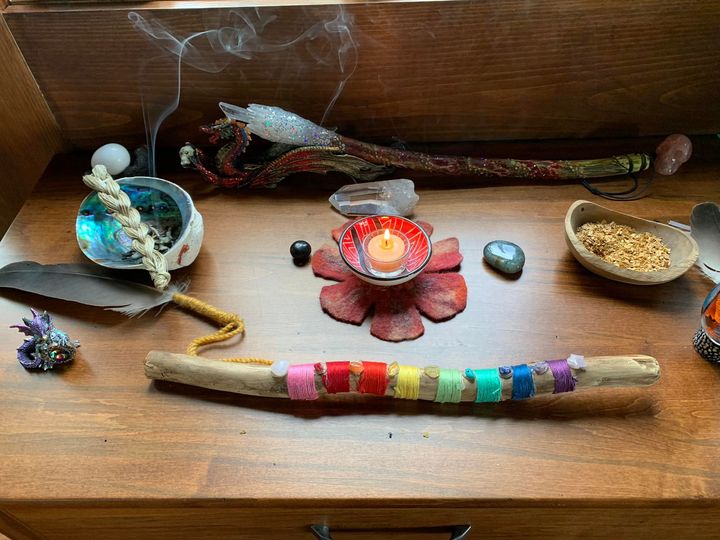 Self Discovery Through Play – Our Wonder Wands The recent Heart Flow retreat began with an invitation to ''Wander with Wonder' connecting with what was emerging in the natural world around us. Engaging our childlike wonder is a key to transforming heaviness into lightness from fiddleheads to wonder wands, we were creating space for new…
Grab our Wisdom of Nature Guide
Are you seeking more heart-centred, nature-based practices to help you stay positive and connected? If so, this guide is for you. 
A copy of our Wisdom in Nature Guide is on its way to your inbox.