Our Facility
---
Northern Edge Algonquin is a sustainable retreat centre that has grown organically and intentionally since 1992 for the purpose of hosting group retreat experiences in Algonquin Park.
Each retreat features a range of cozy accommodations, delicious meals crafted with care from local ingredients, and gathering and practice spaces intentionally designed to inspire connection.
Come. Gather. Connect.
We are so excited to welcome you to our centre! Continue on to discover more about our accommodations, mealtimes, gathering spaces, and green practices.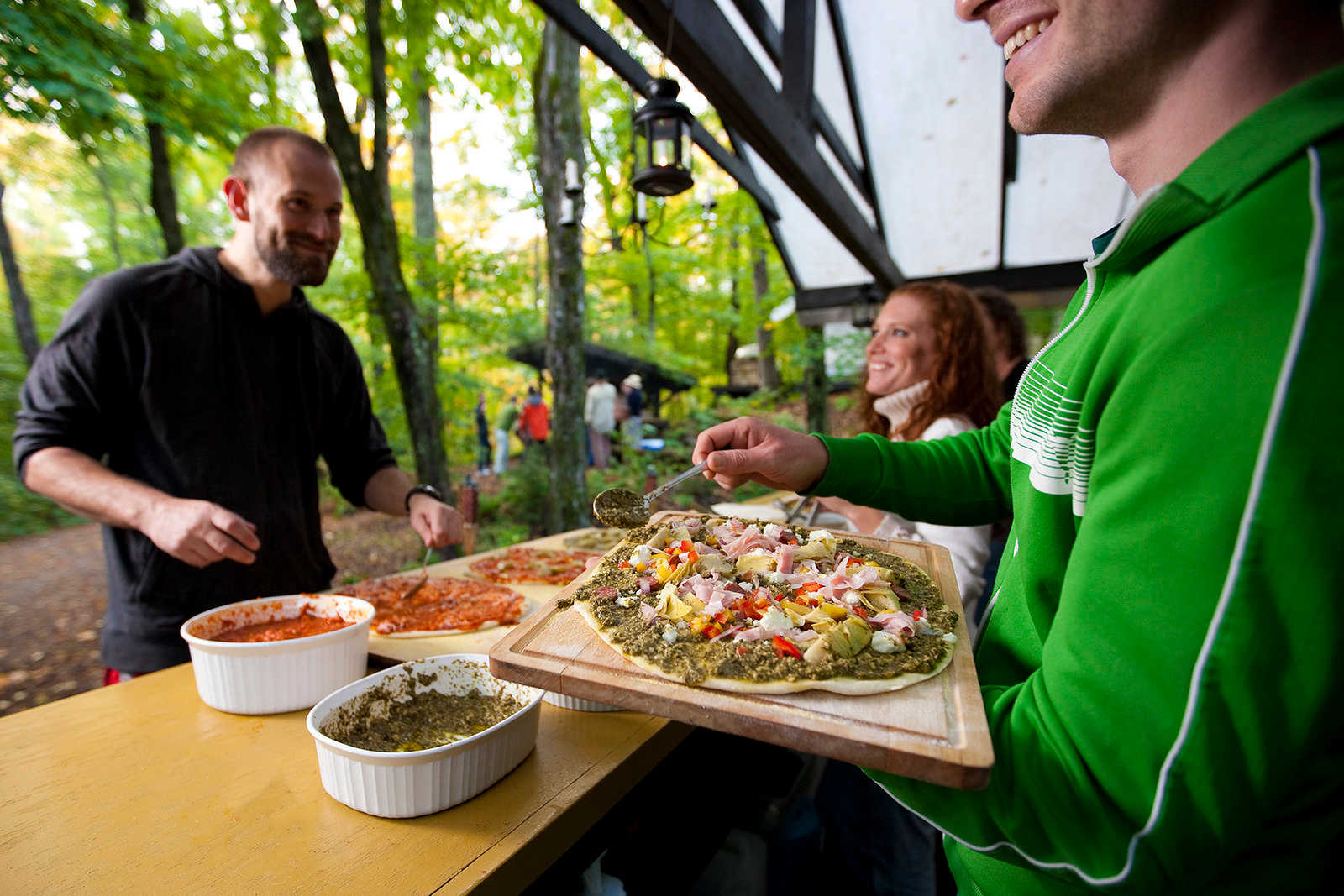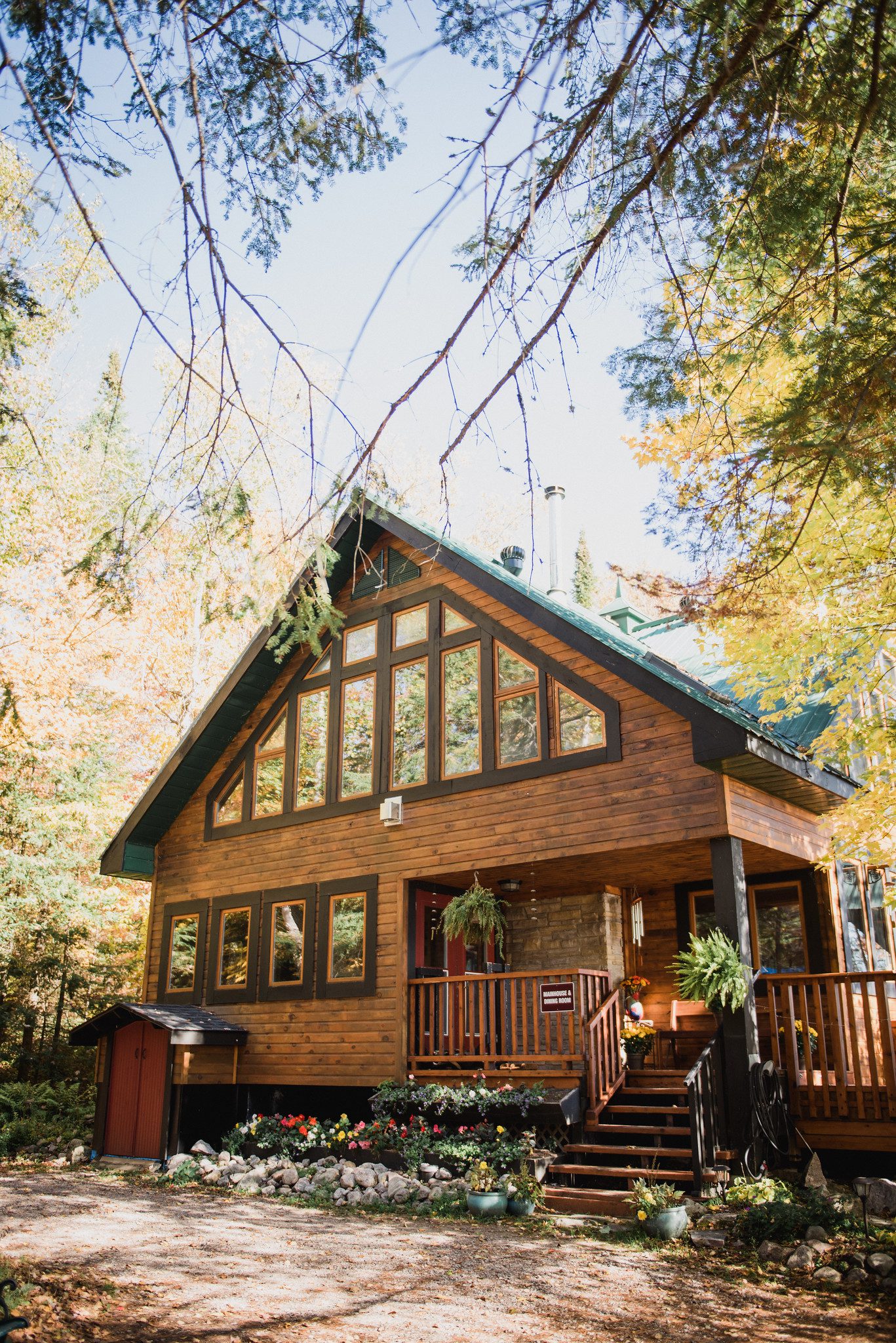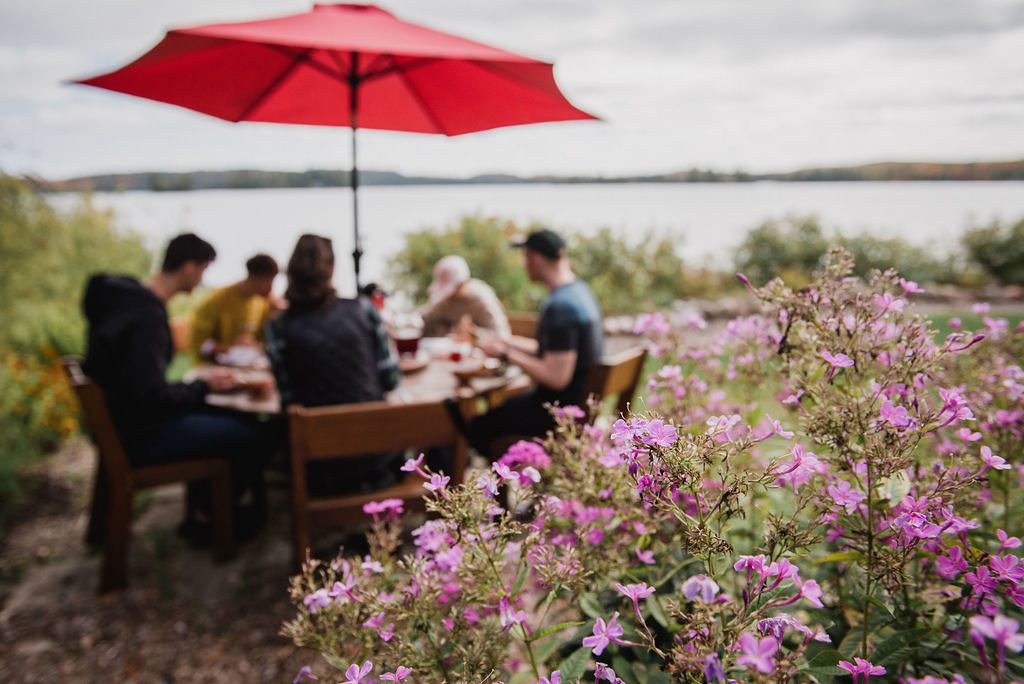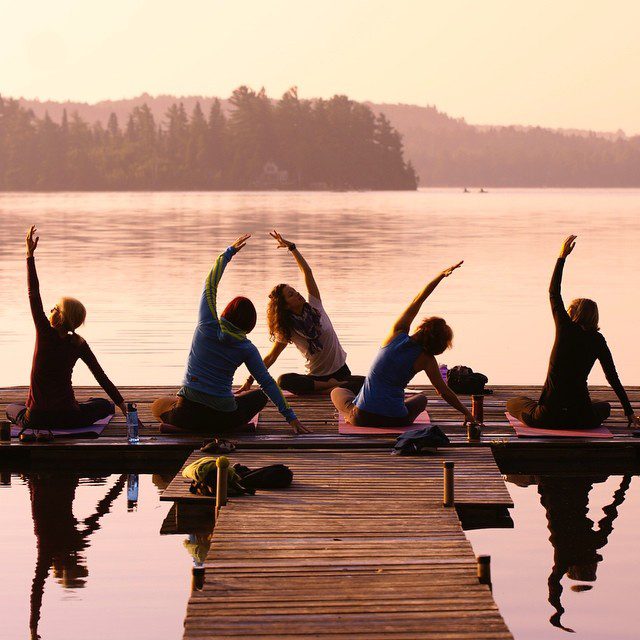 Accommodations
We provide a variety of accommodation options to meet the needs of guests participating in scheduled retreat programs or group experiences. Different from a hotel, accommodations at the Edge are simple, yet comfortable: a place to rest your head at night after a day of adventure, dreamtime, creativity, community, nature, and wonder.
When you register for a retreat at the Edge, you decide if you'd like a shared or private accommodation, which have different pricing rates.
Best Shared Accommodation Options: Studio cabins are spacious and designed for sharing in comfort! Or, Habitat Cabins offer a cozy, one-of-a-kind experience at a friendly rate.
Best Private Accommodation Options: We recommend a bedroom in Dreamer's Hill with all the amenities, or a Canopy Cabin for a closer-to-nature experience at a lower rate.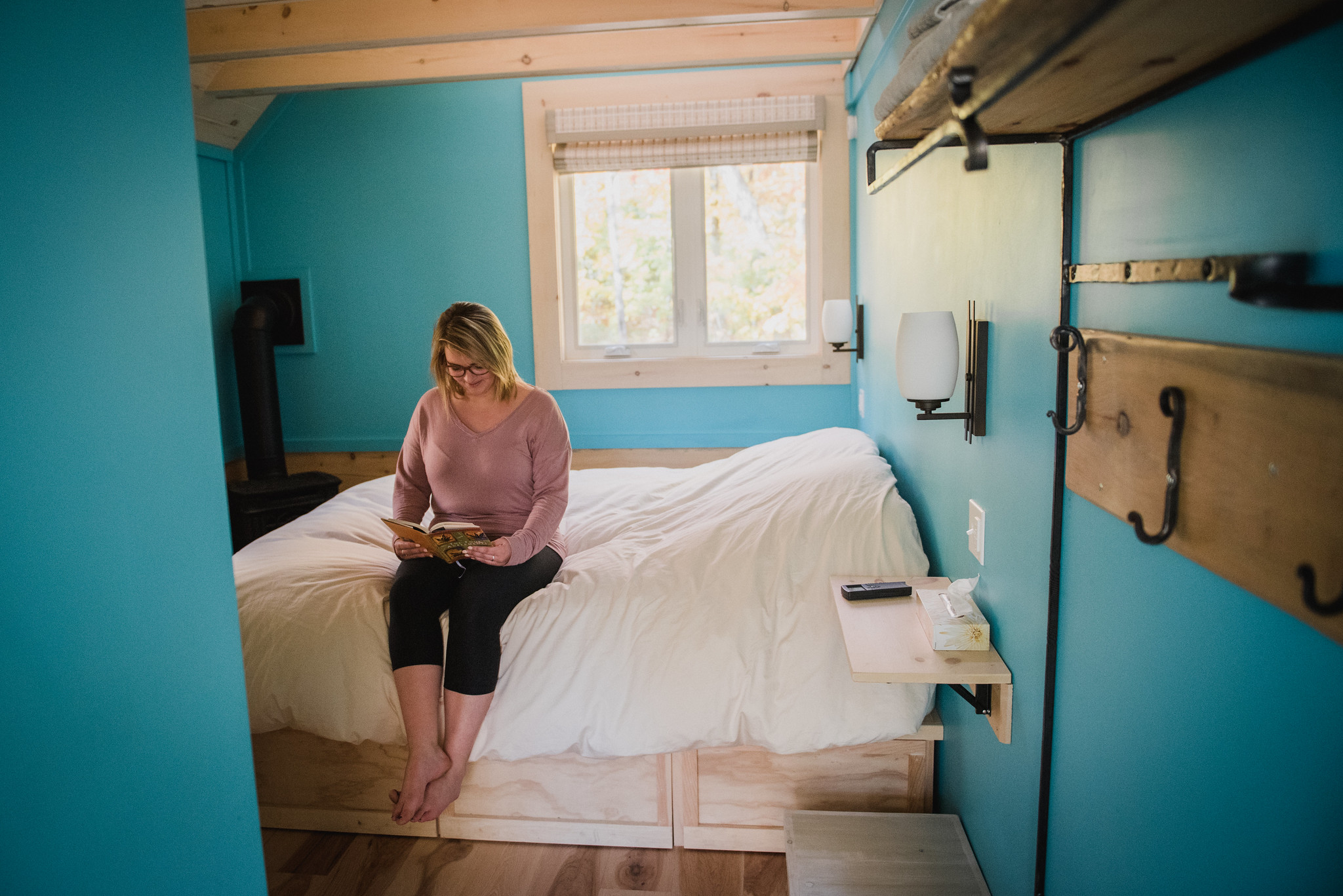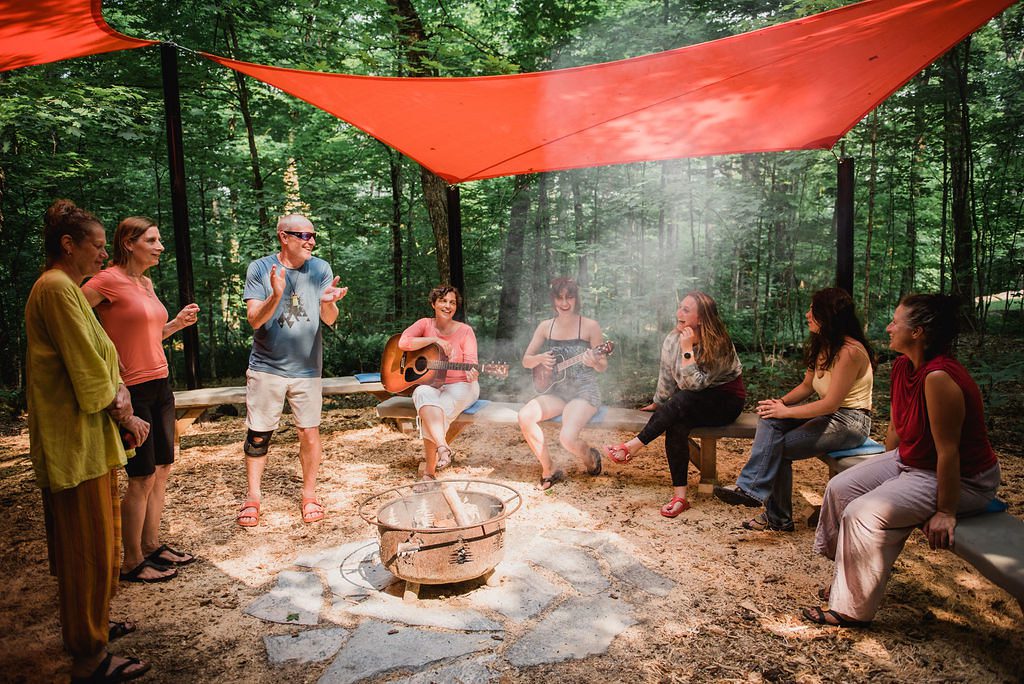 Indoor & Outdoor Gathering Spaces
Northern Edge features a number of intentionally-designed spaces that encourage connection and shared experiences. With our focus on groups from the very beginning, we knew that it was important to create comfortable spaces for workshops, movement, downtime, dining, and more, where our guests could spend time together.
Retreat participants at the Edge gather together in Points North for lounge time, workshops, and guided meditations. They share stories around the campfire and unwind in our large wood-fired sauna before dipping in the lake. Our guests enjoy movement and yoga practices in our Butterfly Room overlooking the lake, on our floating platform, or on the lawn at Dreamer's Hill surrounded by forests. Dine together at the waterfront, on the hive deck, in our spacious dining room, or in our pub-style century-old log cabin. They go out onto the land and water to explore together across forests, lakes, islands, and trails.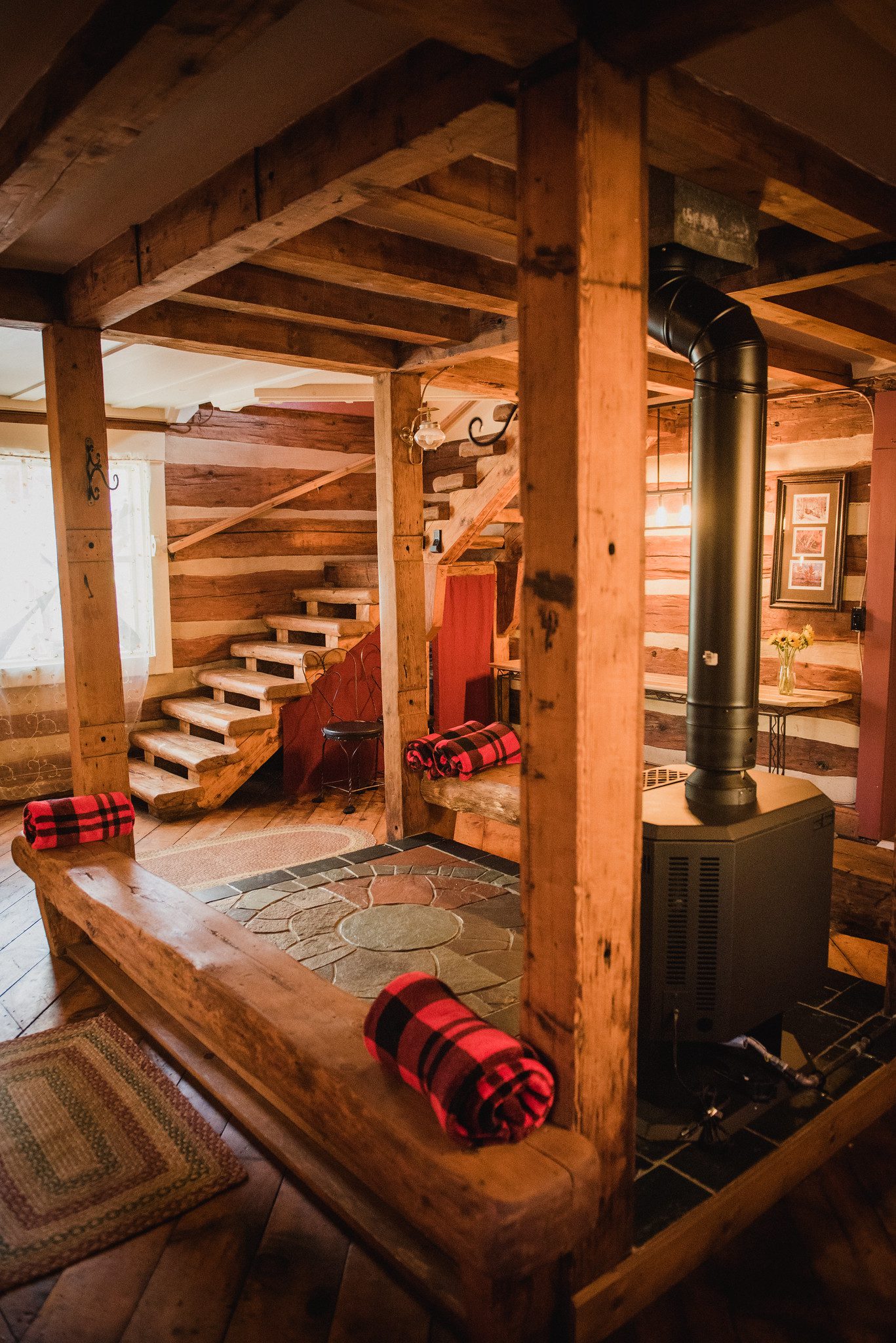 Highlander House
The Highlander House was recycled and rebuilt from the remains of a more-than-century-old cabin that originally stood in Loring, Ontario.
The main level is used for a variety of programming, as well as the occasional specialty meal to give us a change of pace in dining locations. The upstairs loft is occasionally used as accommodation or breakout groups.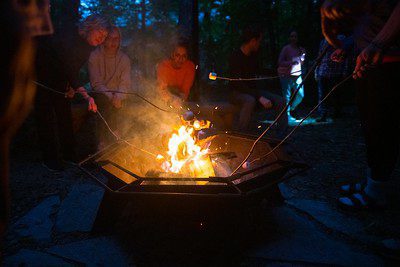 Fire Circles
The Edge has two fire circles on-site.
In the forest, our largest fire circle is a great space for larger groups & is occasionally used as a workshop space.
StoneHedge Fire Circle, our original Northern Edge fire circle is located on the waterfront, right by the labyrinth.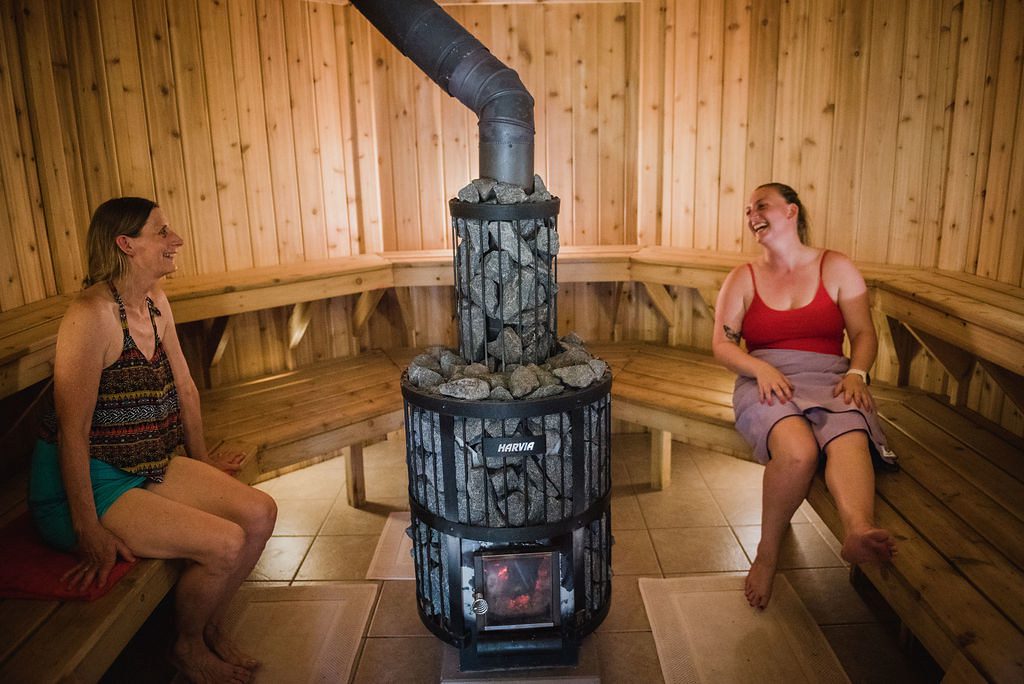 Sauna
"Grandmother Cedar Haus" is our large, wood-fired sauna with capacity for small groups to share in ceremony or social time together. We'll fire it up at a time that is appropriate to accent each retreat program – and depending on the group's needs, it may fit everyone together or stay hot for folks to enter and exit over the course of the afternoon.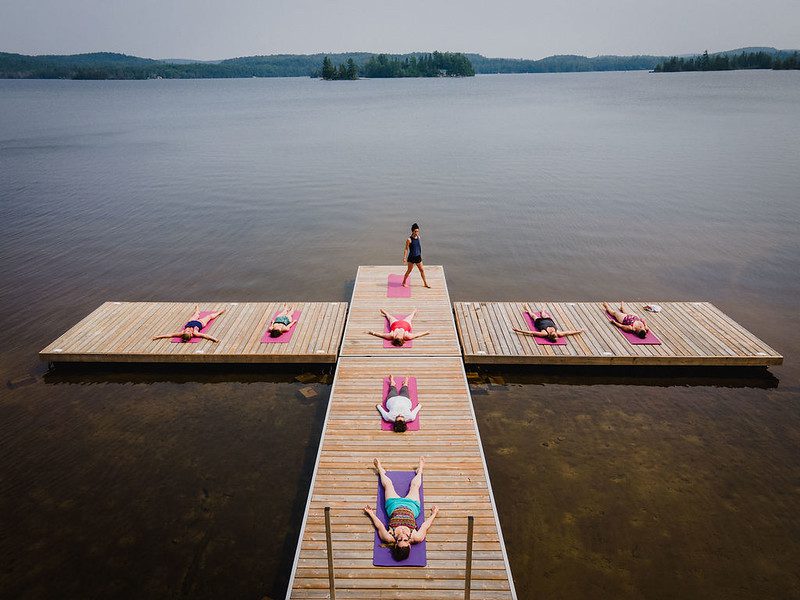 Dragonfly Dock
Our floating platform on Kawawaymog Lake is the best place to soak up the sun, go for a swim, or enjoy a sunrise dock yoga practice.
There is lots of room for movement, launching water adventures via canoe or SUP, swimming, reading a book, and even for making a cozy space and star gazing in the evening.
The dock is available May through to October, and is stowed away in the cooler months.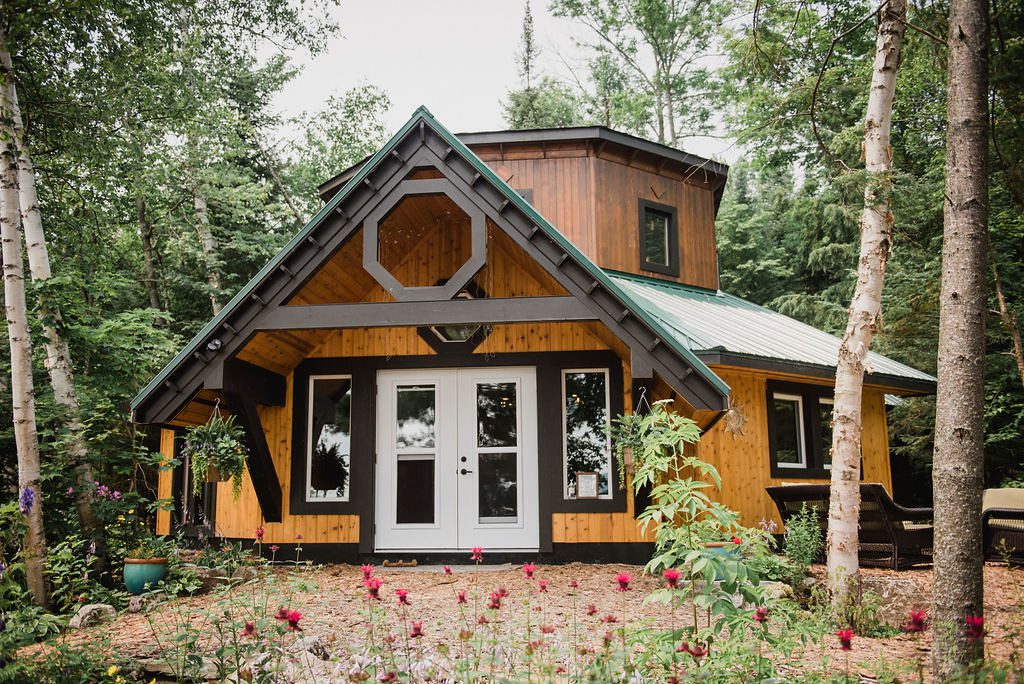 Points North
Our main programming space, Points North features a comfortable lounge & multi-use gathering space where coffee, tea, and snacks are served throughout the day.
This space is open 24 hours a day, and bathrooms & shower rooms are also located here, just a few minutes' walk away from your cabin.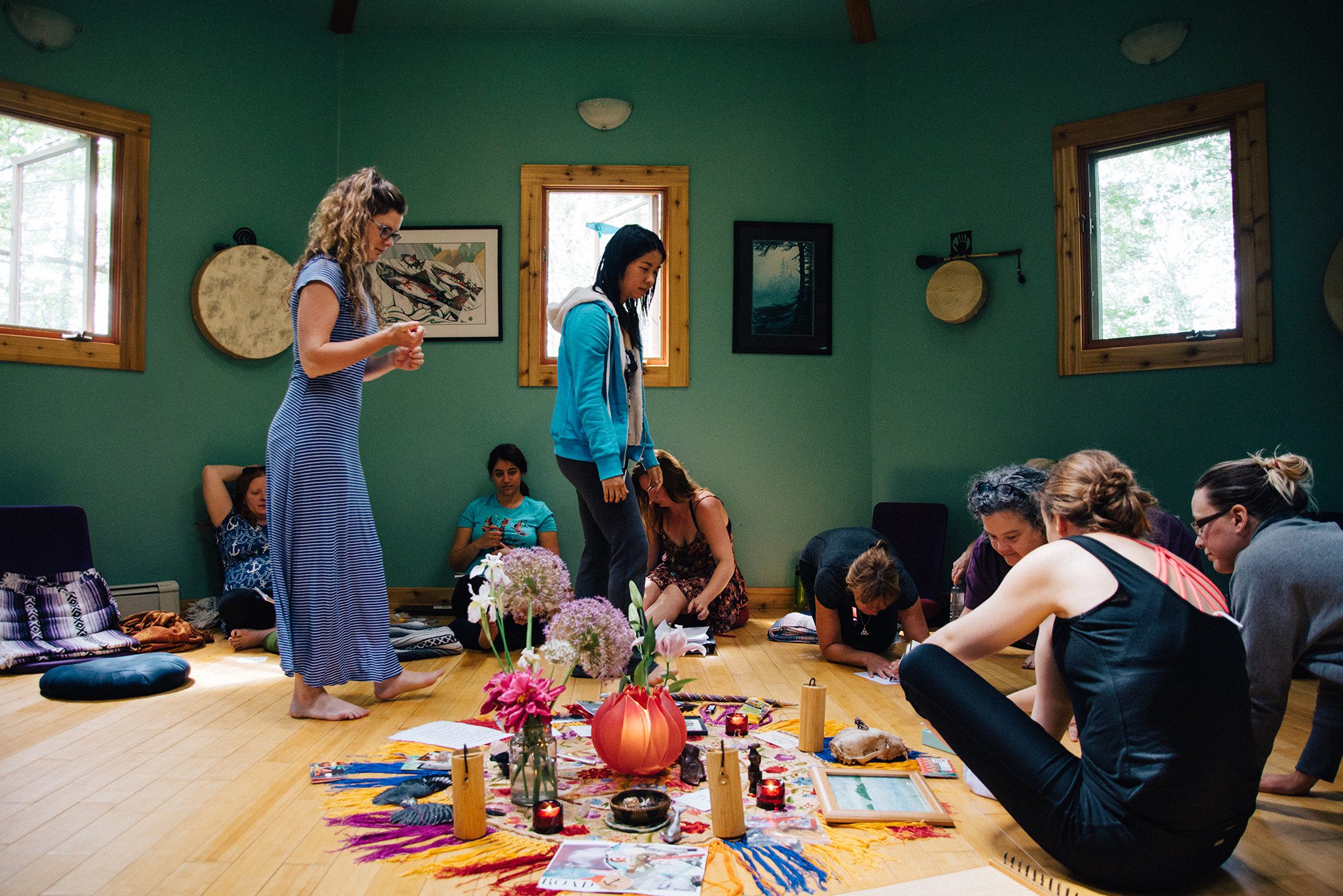 Points North Studio
Our main studio space at the Edge, we use the Points North Studio to facilitate circles, specialty workshops, sound baths, and small-group movement sessions.
This space is stocked with back-jack chairs, blankets, meditation cushions, hand drums, crystal bowls, and an earth gong.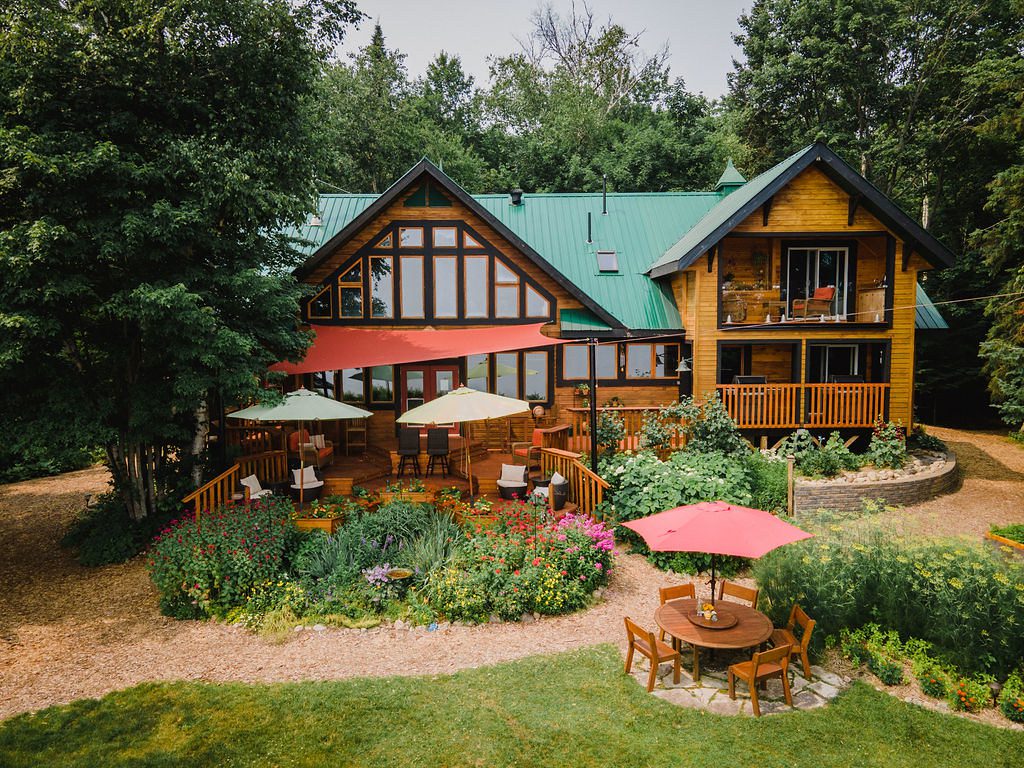 Main House
Main House is the location of our main Dining Room which opens onto the Hive Deck, our outdoor waterfront gathering space. Inside, a small lending library is available for guests to borrow a book during their stay.
To give the hospitality team the space to work their magic, the dining room is open just during mealtimes.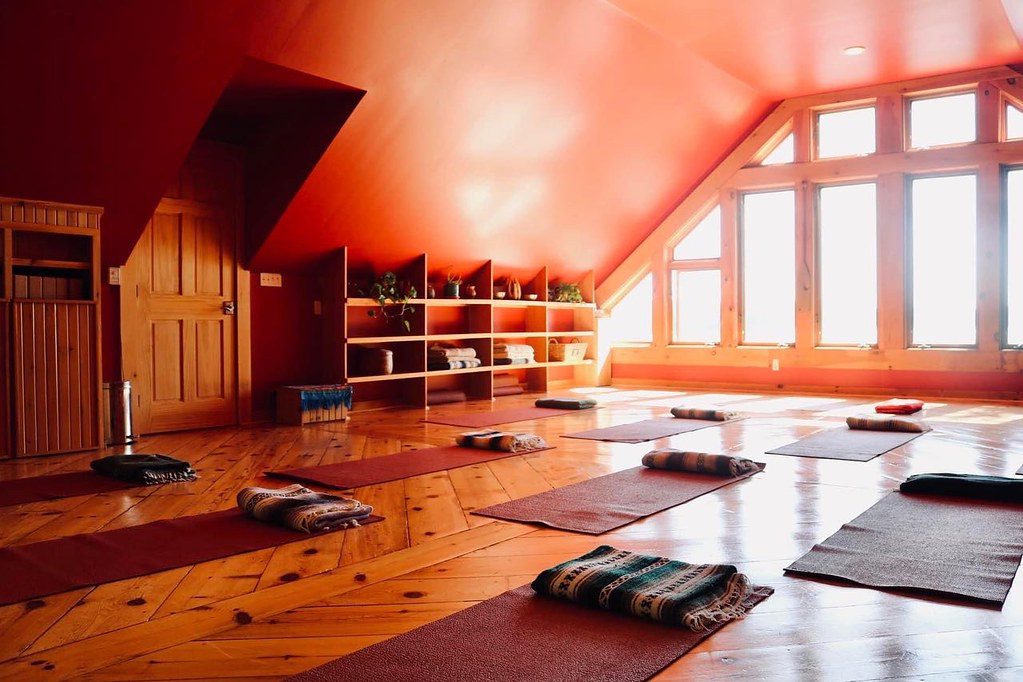 Butterfly Room
Above the dining room is a very special studio space we call the Butterfly Room.
Part music room, the Butterfly Room boasts a collection of instruments and a gorgeous view of Kawawaymog Lake. This is our largest indoor space, which we make available specially for larger groups who are exploring movement and yoga.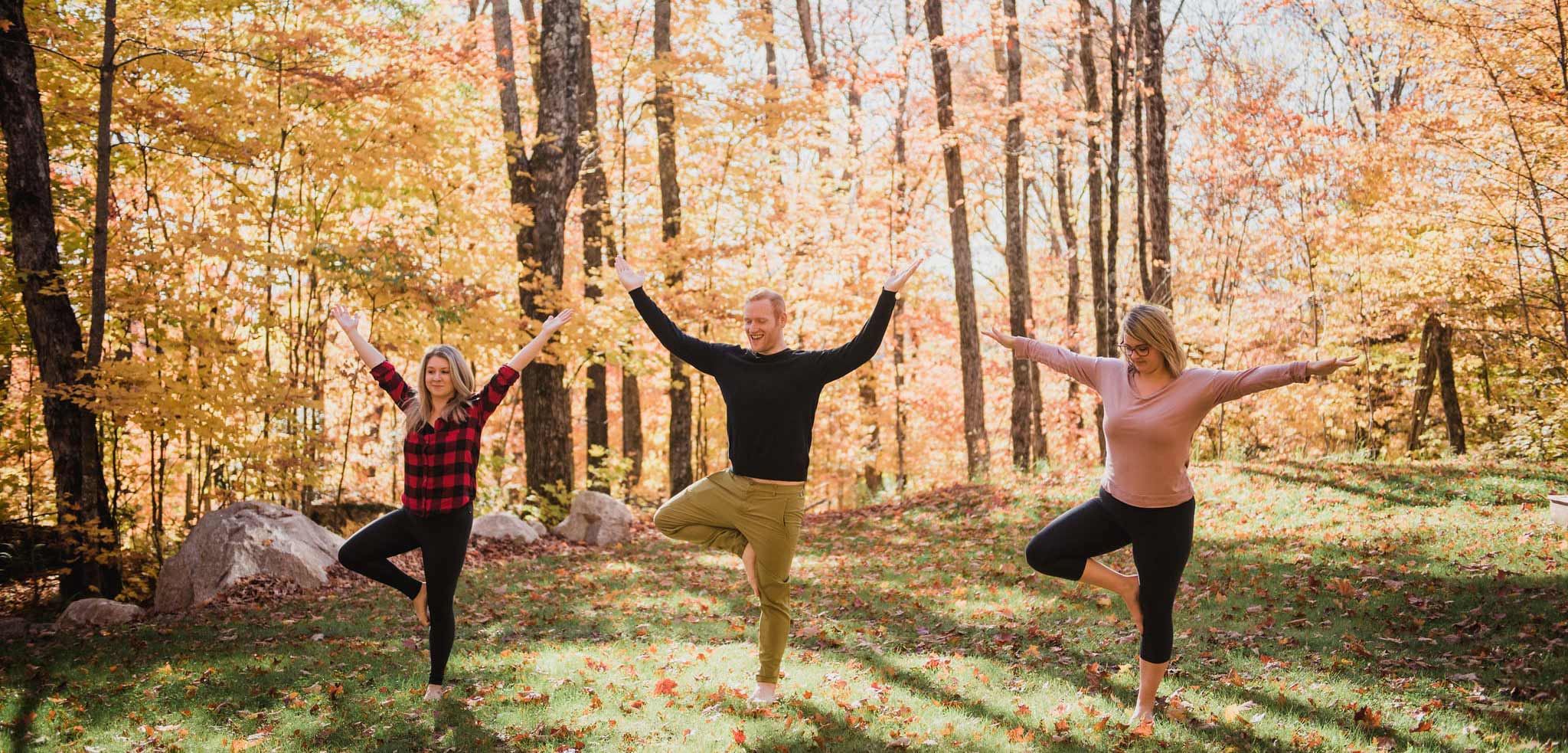 Dreamer's Hill
Up on Dreamer's Hill a beautiful grassy outdoor space for a yoga practice awaits. Move (or find stillness) among the grass or on the deck of the cabin, where we have occasionally staged unplugged concerts with special guest artists.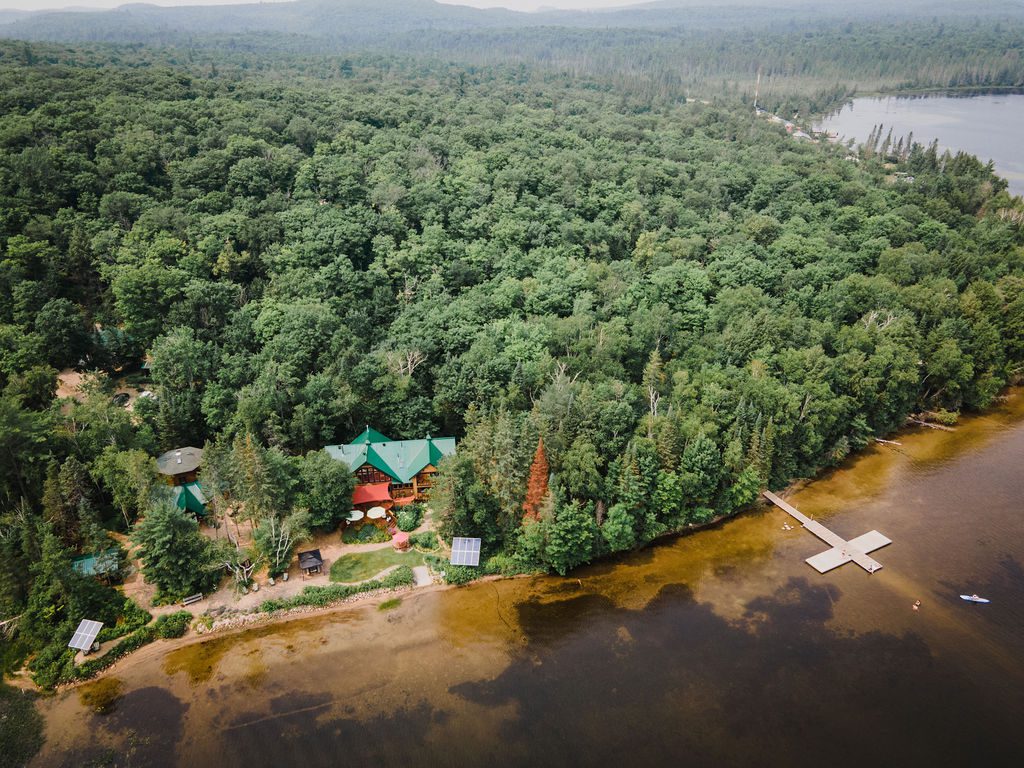 Forests, Lakes, Trails, and more
Northern Edge Algonquin is surrounded by forests ripe for exploration featuring the Forgotten Trails, while exploring Kawawaymog Lake can lead us to Blueberry Island or the Amable du Fond river which leads into Algonquin Park itself.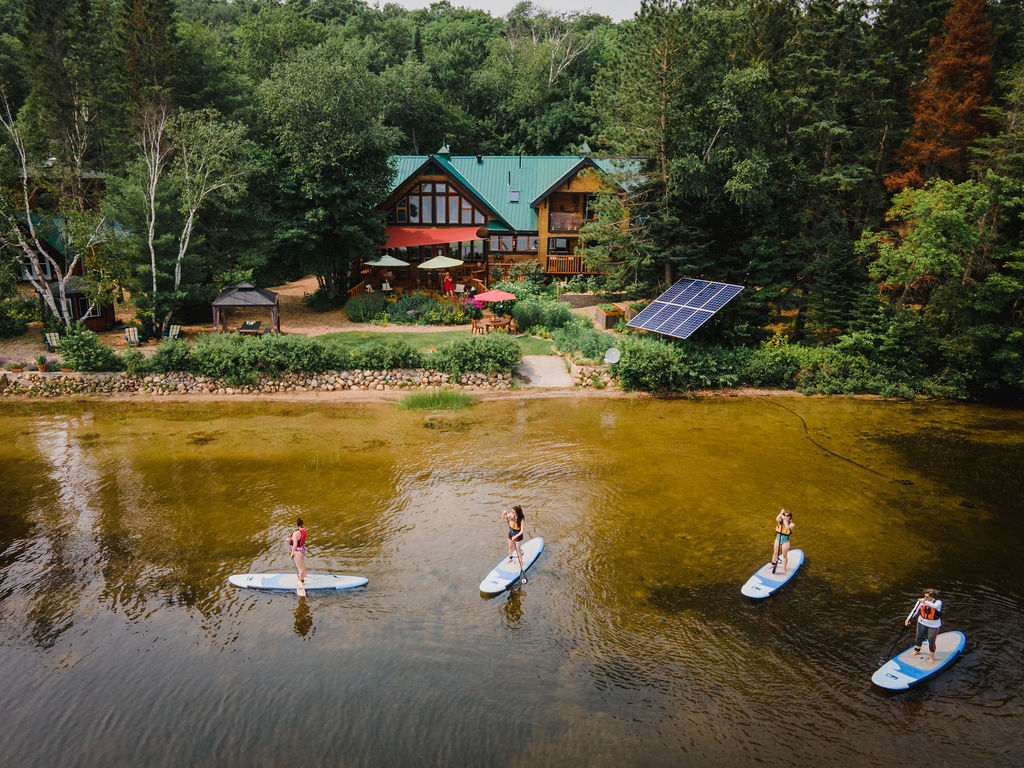 Green Practices
The Edge was designed from the ground up to be Algonquin Park (and even Canada's) most sustainable and environmentally sound place to travel.
Recognized by TripAdvisor as a PLATINUM LEVEL GreenLeader, our operations, facilities and staff aim to prove to the world that regenerative, responsible travel experiences which honour our connection with the earth, local communities, local food producers can be economically viable while being vital to the health and well-being of people across the world. In short we see our Algonquin Park home as an oasis from this hyper-connected world.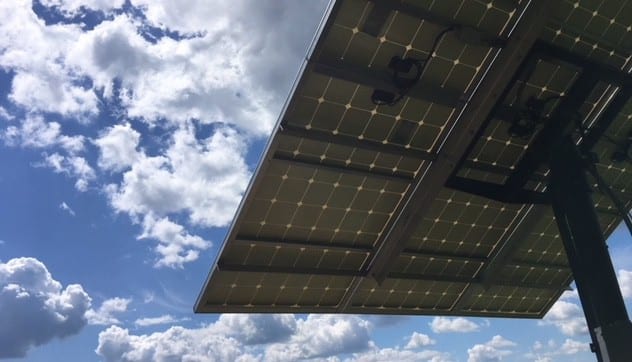 Solar Energy
With 26 solar panels producing 2.8 kW of power, our guests enjoy hot showers and use our energy efficient lights powered by the sun.
We turn our solar panels to face the sun throughout the day and have made great effort to conserve the amount of energy we use in our day-to-day operations.
On cloudy or dark days, guests may hear the generator kick on to provide some back-up power.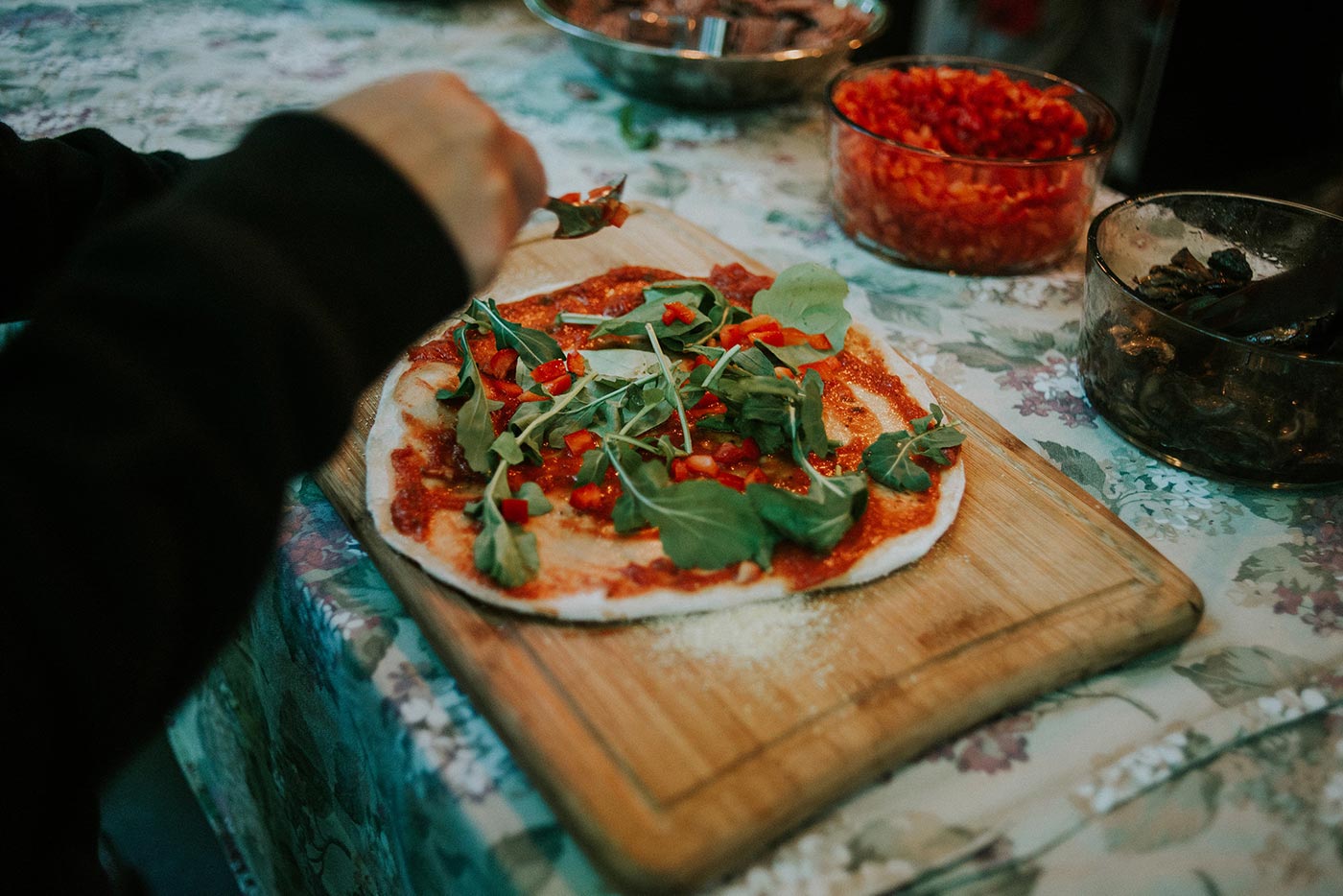 Local Partnerships
Guests dine on healthy, home cooked meals featuring local, sustainably harvested foods, and fair trade products including fresh food right out of our garden, Gregor's garden and other local food initiatives.
Through partnerships and relationship building with local providers, each meal at the Edge contributes to a healthy local food culture. Your money goes directly into the hands of small independent local farmers and food providers.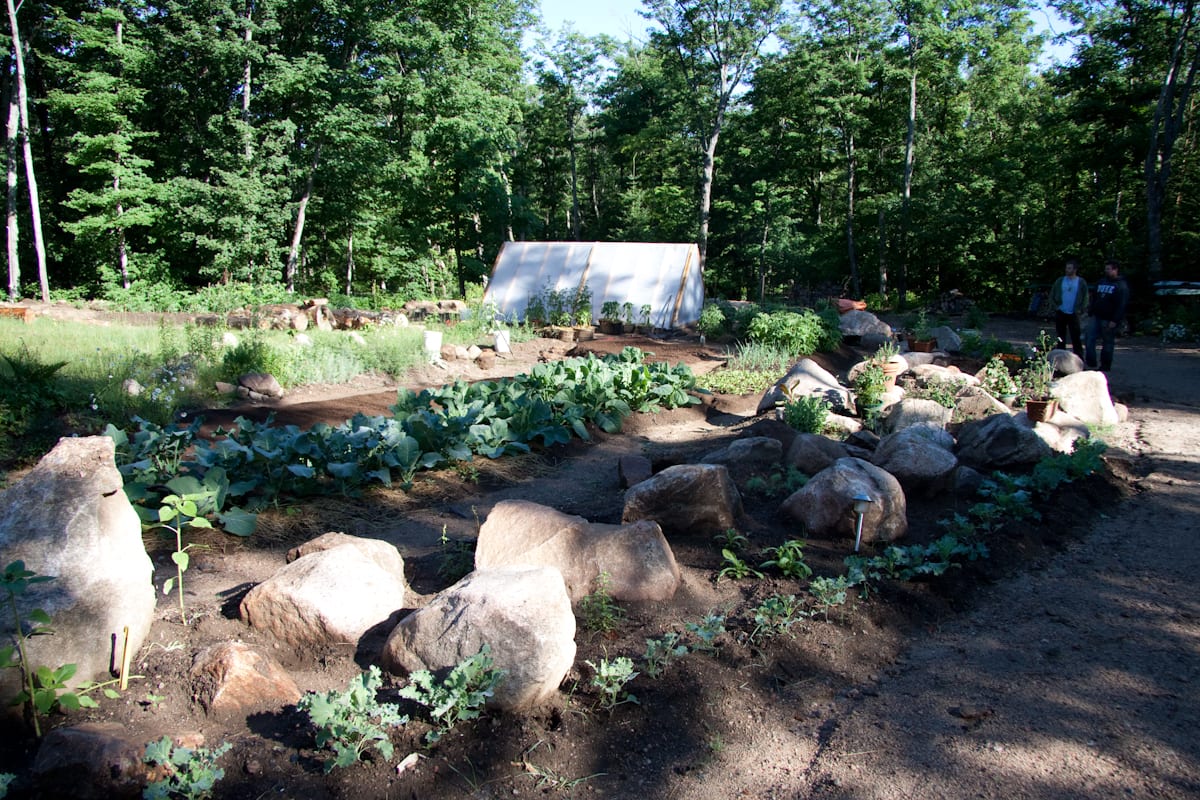 Regenerative Stewardship
We see ourselves as stewards of the land at Northern Edge and we put a lot of care into the planning & sustainability of what goes on here.
From comprehensive recycling and waste reduction programs, to the inclusion of low-flow and composting toilets which allow guests to contribute to our flower gardens, the impact of each change and expansion at the Edge has been thoughtfully considered, so that we are always working towards greater sustainability.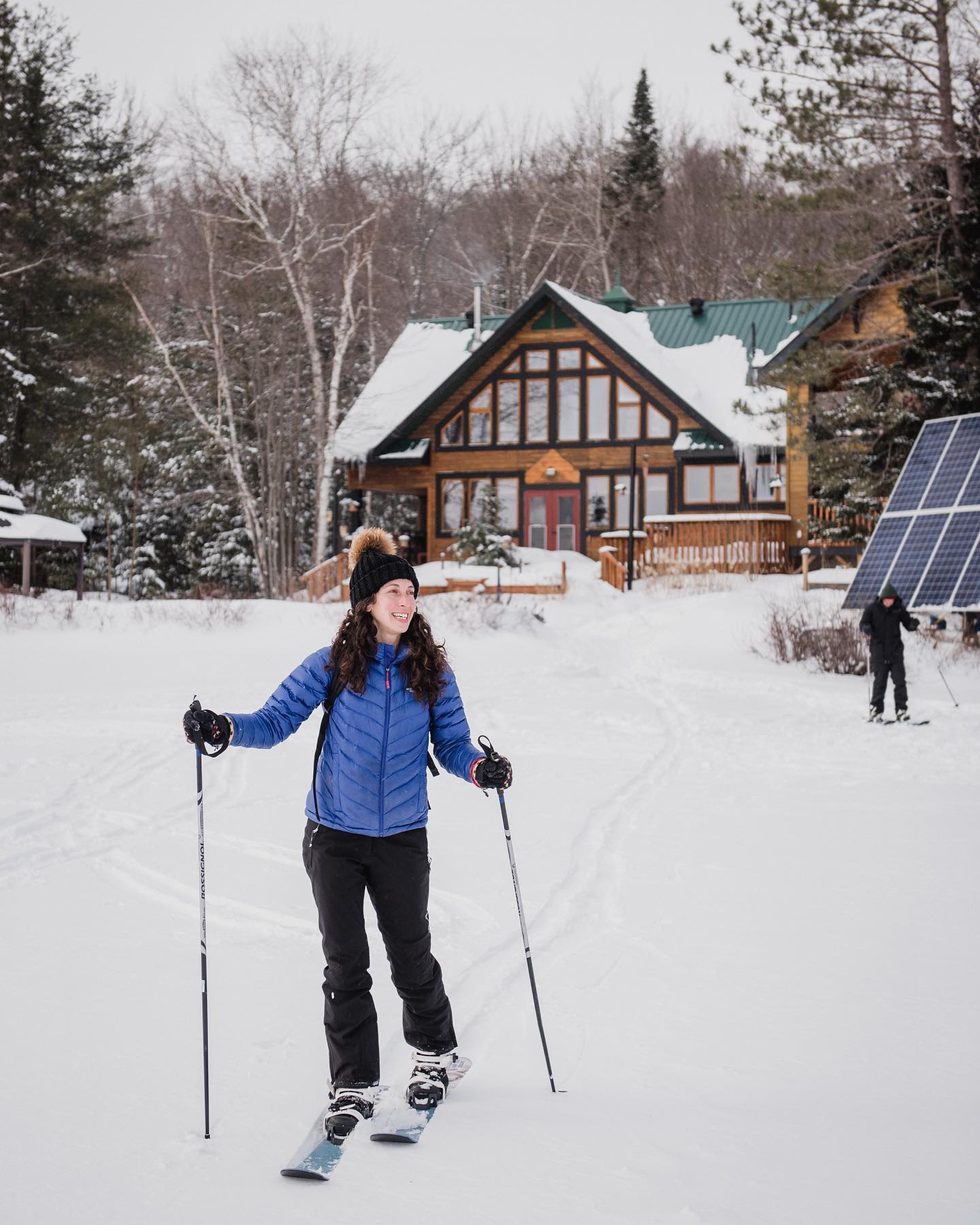 Inspiring Change
From the beginning, the Edge has been a place that not only runs sustainably, but inspires our guests to return home and consider their own impact.
Local facilitators and staff walk gently on the earth and invite our guests to do the same — whether practicing "leave-no-trace" adventures in nature, pitching in with communal clean-up after dinnertime (recalling a time when the best conversations happened at the kitchen sink), or learning how to watch their energy use, our guests return home inspired and ready to make a difference.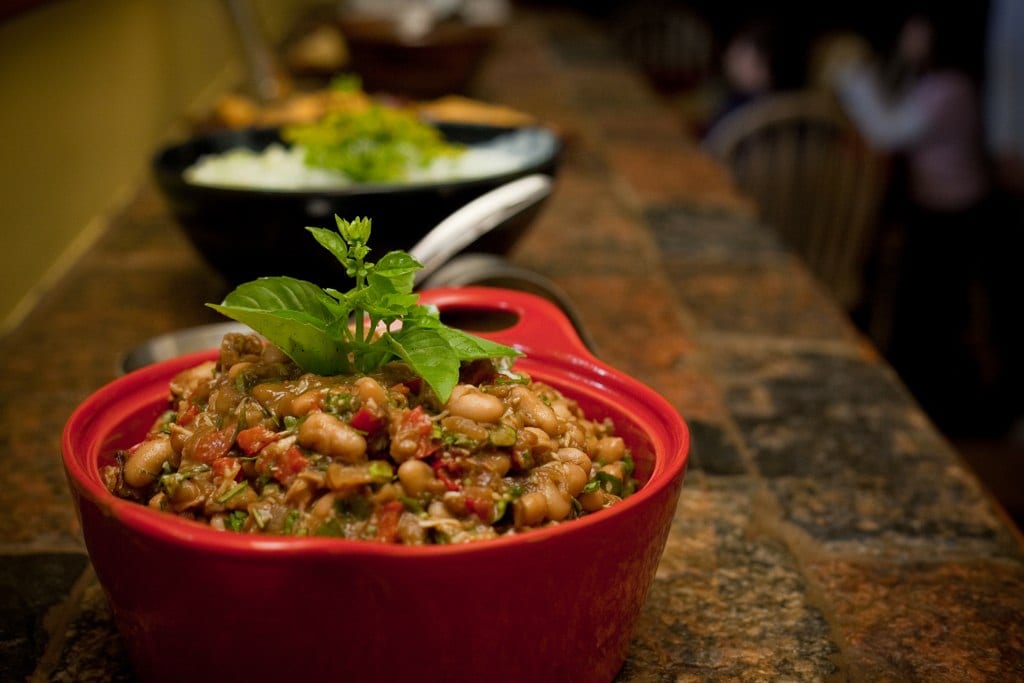 Farm-to-Table Meals are always included
Our award-winning mealtime steward, Greg Waters and our Culinary experiences have been recognized by the tourism industry as some of the best in Canada, and we were proudly the first food provider in Ontario recognized by Feast On for our taste of place as a certified purveyor of locally sourced food. Some food ingredients come from our garden, but most come from local gardens and Ontario farms, and partnerships with local food providers.
Cooking at the Edge focuses on balancing globally far-flung tastes with provincially produced foods. While seasonal menus are inspired by flavours from afar, we seek to prepare our meals with ingredients raised closer to home. Read Gregor's blog post that explains why Greg doesn't have any recipes at this time.
Our promise: Your mealtime experiences at our Algonquin Park home will be remembered and treasured by everyone. Our meals take into account specialty food restrictions for health and personal reasons ensuring each individual's needs are looked after when we deliver a colourful, tasteful buffet style meal. Learn more about Gregor.
Read More about the Edge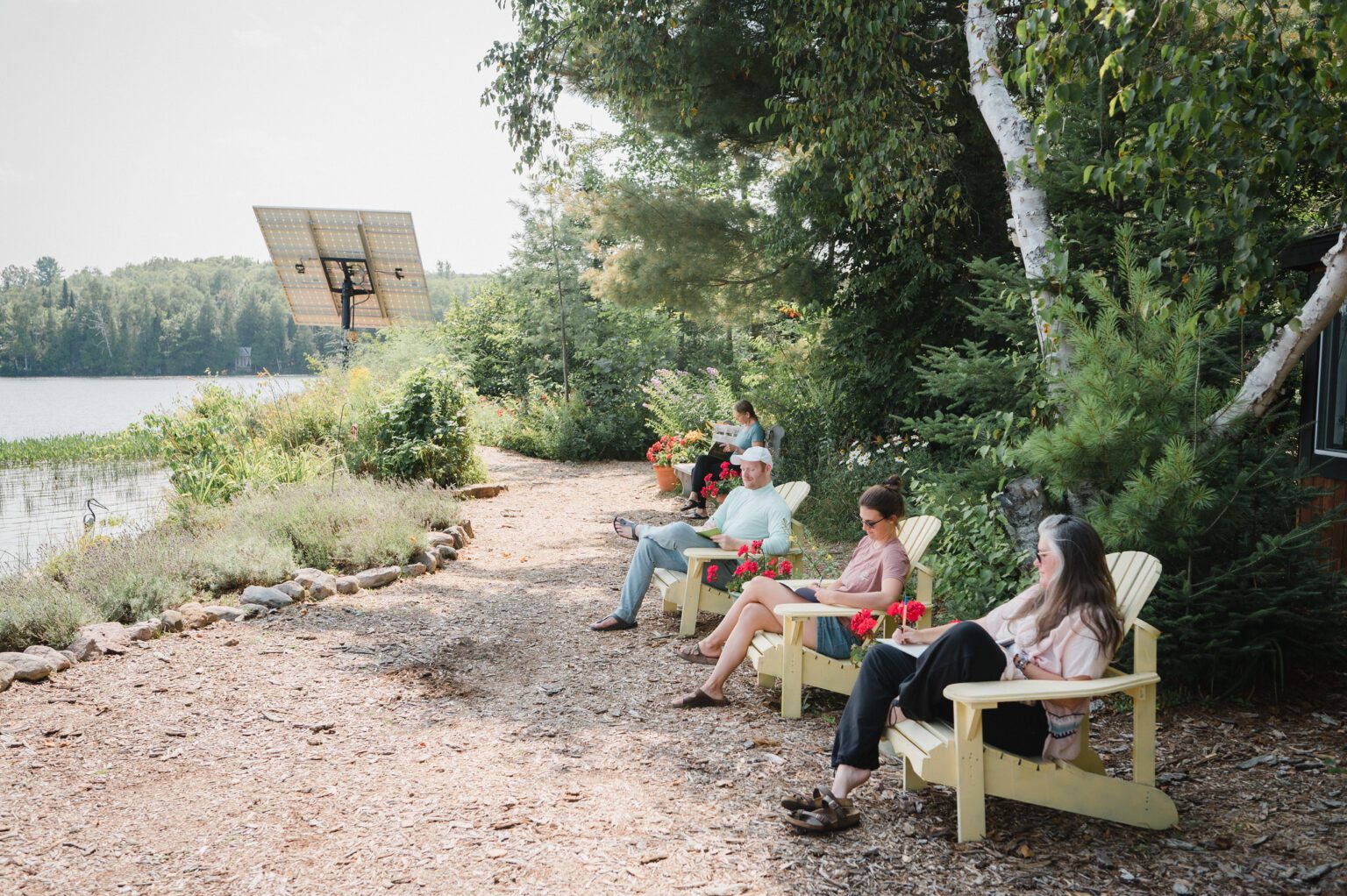 How Powerful, Atomic, and Tiny Habits can Change Your Life(Yes, we've got a retreat for…