the Spiral Path of Learning
Learn & Live along the Spiral Path
Way of the Circle Centre
At The Way of the Circle Centre, we offer transformational retreat experiences in the framework of the Way of the Circle. Through the Way of the Circle, we manifest the potential of our abilities to create change in our lives, as we connect with our hearts, align with the rhythms and cycles of nature, and awaken the imagineers within to co-create the world we dream it to be. As a circle, we celebrate the infinite possibilities of what we can achieve together as an empowered and unified community.
Learn more: Coming Home to the Way of the Circle
Spiral Path of Learning:
All Way of the Circle Centre retreats and programs are connected along our Spiral Path of Learning.
The Spiral Path of Learning is a continuum of ever-deepening wisdom and exploration as we gather tools that nourish us in balance of body, mind, heart, and spirit.
As we move through the different circular levels of the Spiral, we expand our use of these tools, growing ever-deepening confidence as peacemakers and agents of change. The Spiral Path of Learning interconnects all levels of growth and healing that move through all directions and seasons simultaneously.
The Spiral reminds us that there are many 'doorways' in which people can enter this path of practice, offering to each a learning path that is aligned with their custom needs.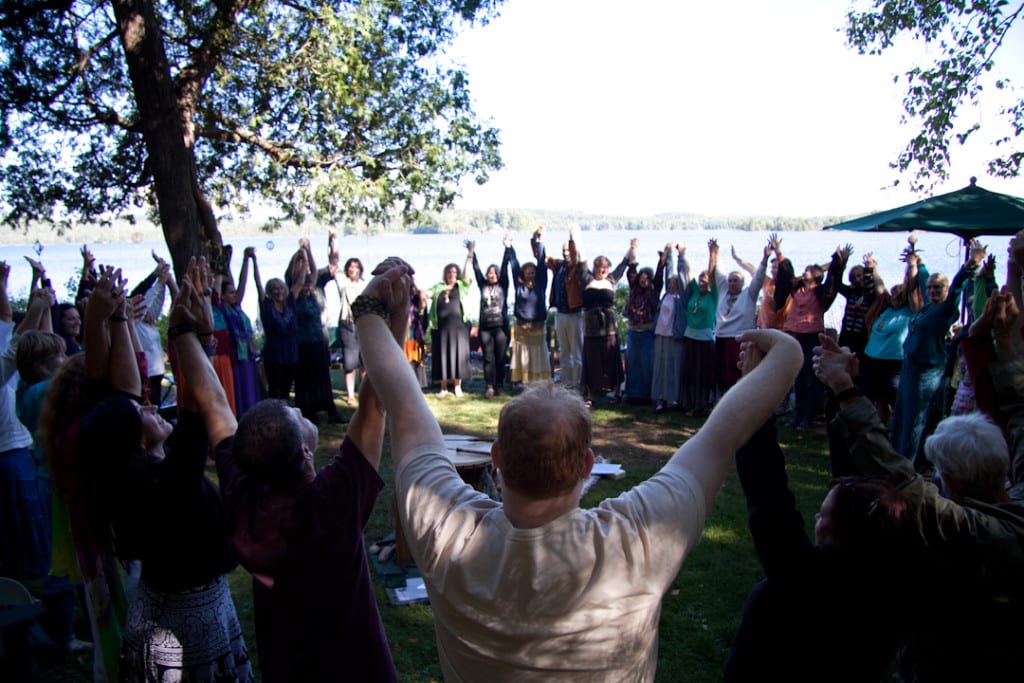 Evolving on the Spiral Path:
For those who are called to evolve in the Way of the Circle on the Spiral Path, here are some stepping stones that might be explored:
Wings of Light Community: Each participant who attends a Heart Foundations retreat is welcomed into a larger collective circle called the Wings of Light, comprised of all who have completed a Heart Foundations retreat, a Basic Shamanism retreat, or a Two-Year Advanced Shamanism program. Regular conference calls, newsletters, and social collective gatherings offer additional ways to stay connected and supported in our daily lives as we follow our heart paths.
Anchors & Mentors: Those who have completed all four seasonal Heart Foundations may be called to step into the role of an Anchor and/or a Way of the Circle mentor-in-training.
Anchors are those called to spiritually support a retreat from a distance, energetically holding space for the group. Through anchoring, they ground the big picture of our collective experience, holding the light potential in ourselves and each other as we heal and expand through our growing edges. The anchoring role allows us to be of service to our community, assisting the circle in shifting on a cellular level, remembering our soul connection to Mother Earth, and re-awakening our ability to dream and manifest as abundant Creator Beings.
Mentors are those called to deepen in their ability to facilitate the Way of the Circle in all areas of their lives. Mentors deepen in their Way of the Circle practice by attending Heart Foundations as mentors-in-training. As they deepen in self care and inner growth, they allow themselves to deepen in receiving and filling their inner well – allowing their gifts of service to flow out to greater reaches from this inner source of plenty upon returning to their homes.
Hosts: Those who have completed all four seasonal mentorship trainings, and have attended the Edge Host Empowerment Training, or equivalent, may be called to step into paid hosting roles through other retreats offered at the Edge. These can include working with corporate groups, tourism groups, yoga communities, custom retreats for families and friends, reunion groups, conference groups, student and youth programs, cultural groups, international programs, and various health and wellness themed groups. Through hosting roles they practice facilitating the Way of the Circle in every kind of group experience.
Rainbow Dragon Wings: Some may be called to join the Rainbow Dragon Wings Circle. This is a core group of seasoned circle members called to commit to a visionary role for the future of the Way of the Circle Centre and the earth.
How do I know if I am called to live and learn along the Spiral Path?
These questions are intended to stir the cauldron of your heart, so you may answer the call to join us in the Way of the Circle along the Spiral Path of Learning:
Called:

Are you deeply interested to be of service in the collective "we", contributing to the growth and evolution of both ourselves and the greater whole?

Committed:

Are you willing to commit to embodying and seeing the potential in yourself and others?

Capable:

Are you willing to recognize everyone's innate abilities, tools, and skills?

Clear:

Are you willing to be in your heart, led by your intuition, open to the possibilities of change?

Confident:

Are you willing to share your unique contributions? Are you willing to trust yourself and others to offer what is needed to achieve the greatest potential for all?

Courageous:

Are you willing to act from a place of love, focusing on the dream we desire to co-create?

Calm:

Are you willing to respect and hold a safe space for all, amidst ebb and flow of energies and emotions?

Compassionate:

Are you willing to connect through the heart, with sympathy, accepting and caring for all?

Conscious:

Are you willing to live in awareness and responsibility of how your thoughts, words, and actions affect others and the world around you?
What if it was possible to co-create a new dream for humanity and Mother Earth, engaging the most powerful tool we have?
What would it be like to give ourselves permission to experience our unlimited potential, for a greater purpose, inviting our imagination to take us where we have never gone before?
There is a space in the circle reserved for you, when you are ready….