Are you looking for an Ontario yoga retreat? We've got plenty of exciting mindful movement and SUP yoga programs on the calendar for 2022. (PS – read about how to save with the Ontario Staycation Tax Credit here)
There are many opportunities to join us on the edge of Algonquin Park to deepen your relationship with yoga and practice mindfully in nature. The Edge and guest co-facilitators often host yoga specific weekends, but more often than not we find yoga weaving its way into retreats as a supportive element and movement tool for integration and connection to self.
Northern Edge Algonquin is home to one of the coolest floating platforms you'll experience in an Ontario yoga retreat. In the summer and fall you can enjoy movement by the water on the dock as the sun rises and the loons sing. You can even do restorative yoga or yoga Nidra under a starry sky with lanterns all around. The Edge has indoor practice spaces and grassy outdoor areas for yoga classes as well. Equipment like yoga mats, blocks, bolsters, straps, meditation seats, and eye pillows available for use.
If you're looking to add some play to your postures and test out your balance why not try out SUP yoga on our paddleboards. Small weights are easily attached to the paddleboards so that students can anchor around the dock. This lets guests practice together on SUP or on the dock and no one has to worry about drifting away.
Take a peek at these photos of yoga at the Edge and continue reading to see all of our 2022 upcoming yoga retreats.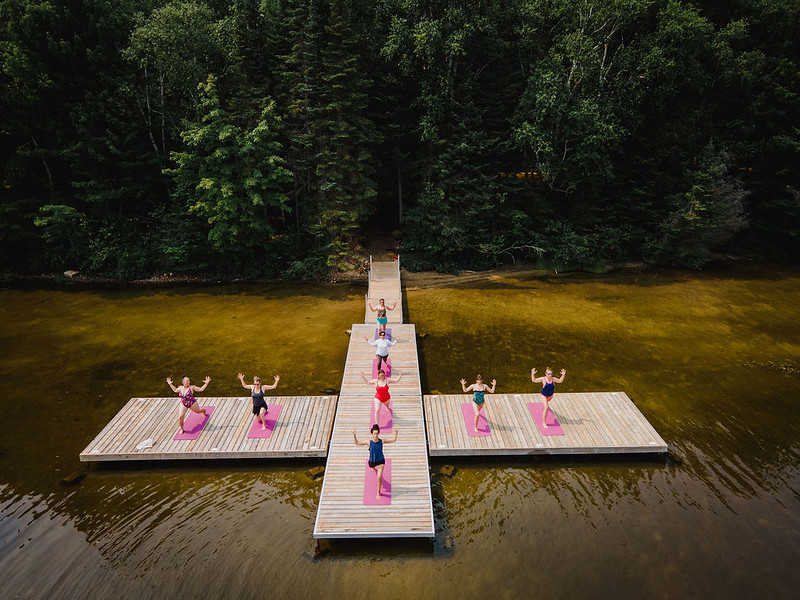 Upcoming Yoga Retreat Experiences at the Edge:
Yoga and Mindful Movement
March 17 – 20, 2022: Emergence with Allie Chisholm-Smith

July 7 – 11, 2022: Recalibrating Your Inner Compass with Michelle Compas

July 15 – 17, 2022: Alive with White Pine Yoga

August 4 – 7, 2022: Botanical Bounty with Wendy Martin

August 25 – 28, 2022: Landing Together Again with Allie Chisholm-Smith

September 22 – 25, 2022: Botanical Bounty with Wendy Martin

November 4 – 6, 2022: Yoga Bits and Delicious Bites with Amanda Cooley

SUP Yoga
July 29 – August 1, 2022: Quest for Balance SUP + Yoga Retreat

September 2 – 5, 2022: SUPtember Paddleboarding & Yoga Retreat with Court Outdoors

September 9 – 11, 2022: SUPtember Paddleboarding & Yoga Retreat with Court Outdoors
Which Ontario yoga retreat is calling you?

You've been signed up to receive news, updates, stories, and special offers from The Edge!