The Habit Reset
Immersive Habits Workshop
& Wellness Retreat
The Habit Reset
Immersive Habits Workshop
& Wellness Retreat
The Habit Reset
Immersive Habits Workshop
& Wellness Retreat
The Habit Reset
Immersive Habits Workshop
& Wellness Retreat
---
Are you ready to reprogram your habits and gain the clarity and control that comes with the power of habits? Join us for the Habit Reset, a wellness retreat designed to help you develop the skills and strategies to form good habits and break the bad ones.
Just imagine . . .
---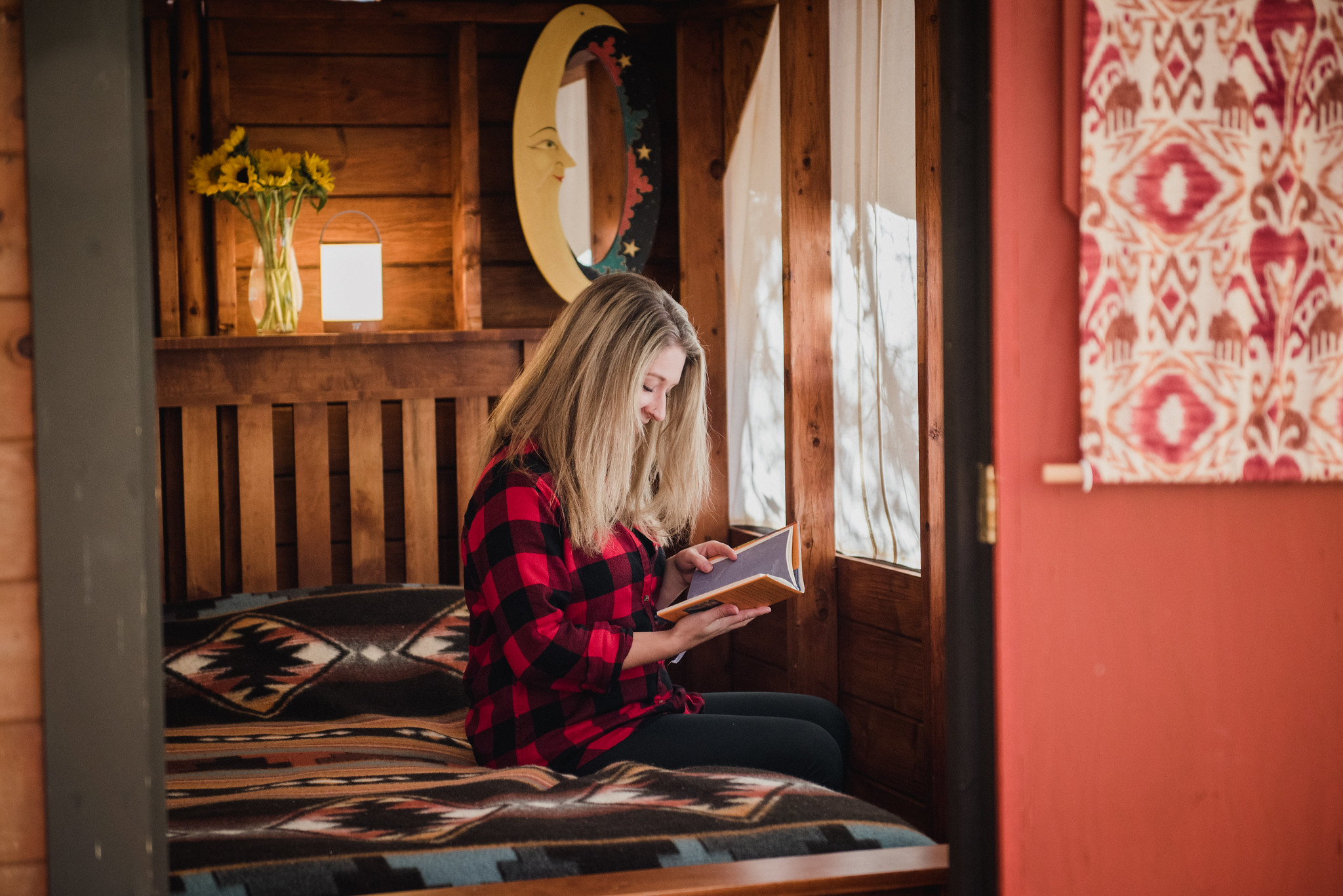 Surrounded by nature on the edge of Algonquin Park, we'll work together to reset the way we think about habits and how they affect our lives. Through a combination of workshops, group activities, and one-on-one guidance, you'll gain the tools needed to form healthy new habits that will stay with you long after the retreat has ended.
Our passionate team will guide you through the process of resetting your habits, from the basics of the habit loop to the development of strong daily routines. With workshops inspired by experts such as B.J. Fogg, Charles Duhigg, James Clear and Marie Kondo, you'll be immersed in a program filled with practical ways to cultivate healthy habits and unlock personal growth opportunities. We'll explore why we do what we do, how we can change our behaviour, wellness routines, de-cluttering, digital wellness and more.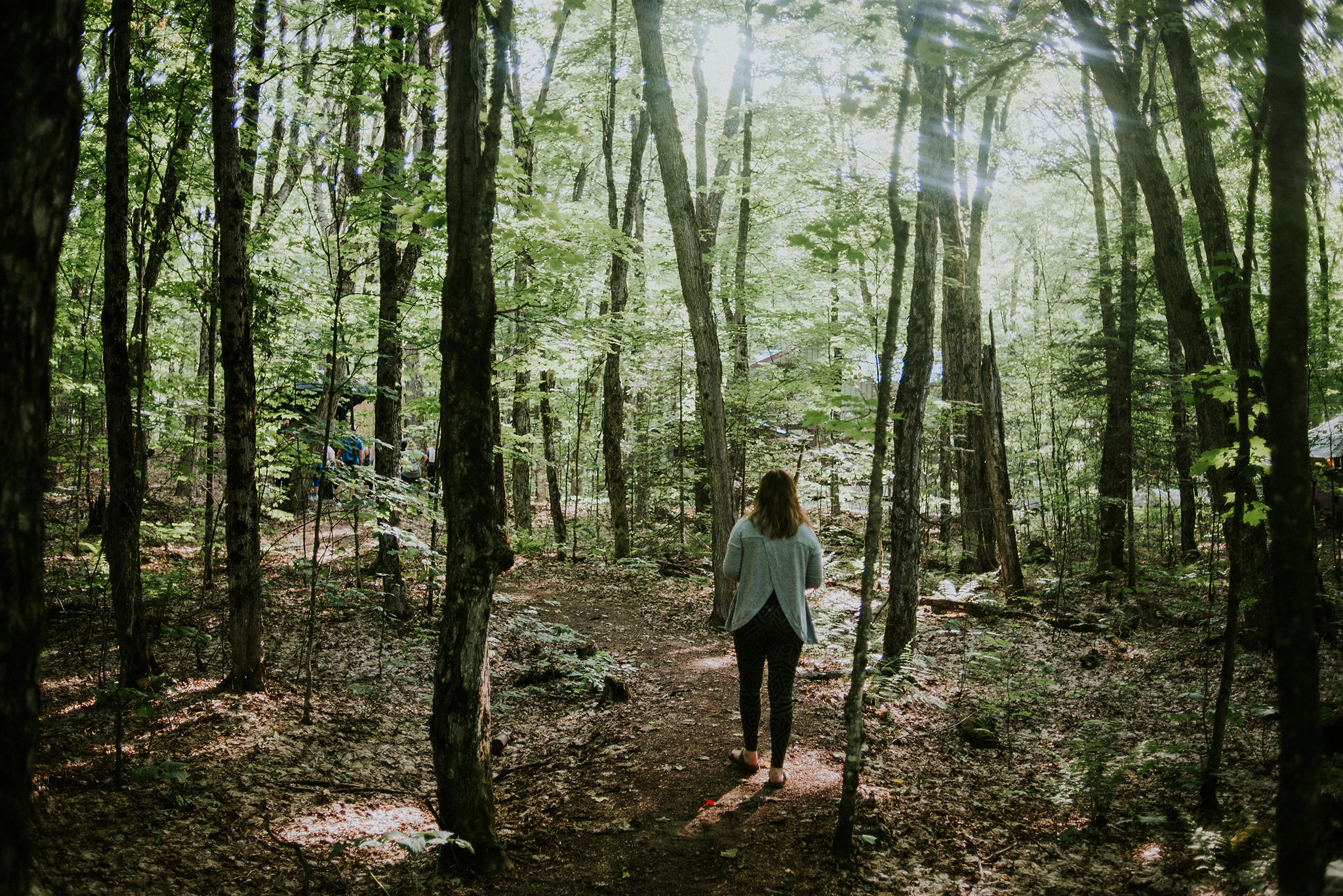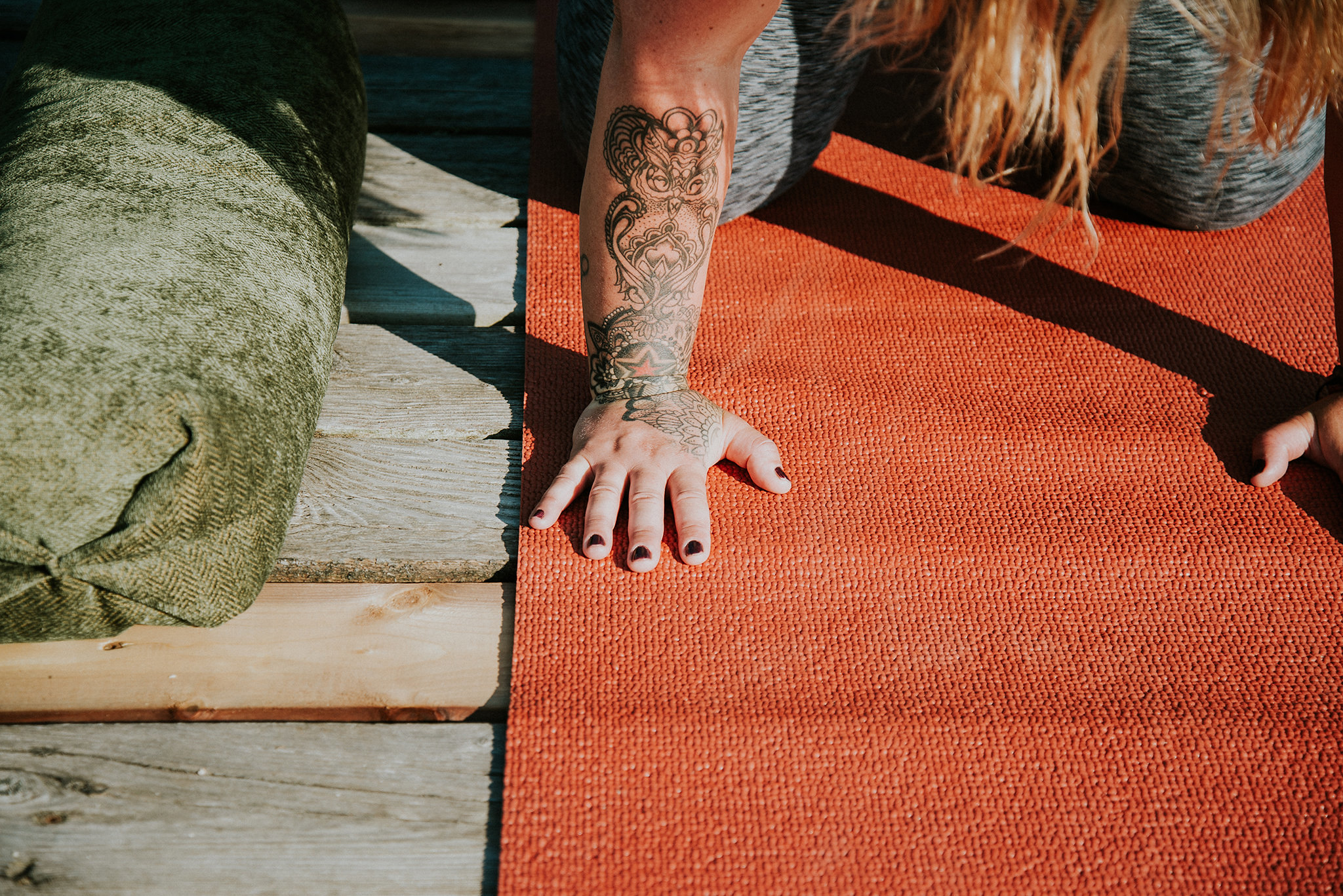 We invite you to unplug for four days as this off-grid workshop takes you away from day-to-day distractions so you can focus on YOU. Come reset outdoors, in a supportive community at our remote retreat centre. Whether your goals have to do with health & wellness, balance, career, or joy – this is your opportunity to dream big, create patterns, environments, and habits that will help you to achieve those dreams, and be accountable to yourself.
Our goal is simple yet powerful – send you home feeling motivated and empowered with a fresh perspective on life – complete with your own toolkit full of daily practices at the ready! By taking a moment to assess your emotional state and how it relates to current habits, you can start the process of breaking a habit or creating new ones. This will give you the opportunity to take steps towards building new routines that are in line with your core values and life goals as well!
---
Tim Lucier
Operations Director, Retreat Facilitator
The son of Northern Edge Algonquin co-founders Todd and Martha, Tim aims to help everything at the Edge to run simply & efficiently. As a facilitator, Tim is passionate about creating simple habits to pursue big dreams, and embodying balanced, joyful living. He enjoys a diverse range of movement practices including hand balancing and aerial yoga. When not living and working at the Edge, Tim can be found traveling & performing.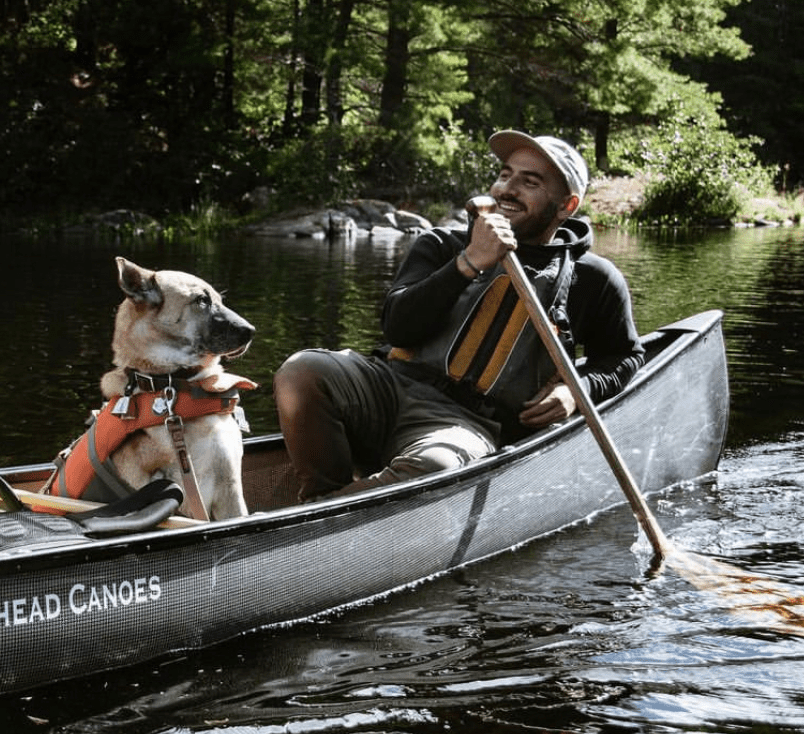 Alex Savatti
Engagement Coordinator, Retreat Facilitator
Alex is a true storyteller with a deep love for people and the outdoors. Hailing from Guelph, Ontario, Alex dedicates his time to building his business, Tripshed, building canoes, and building community. A wilderness guide, guiding teacher, and transformative coach, Alex appreciates the capacity of intention and nature to create moments that leave people changed.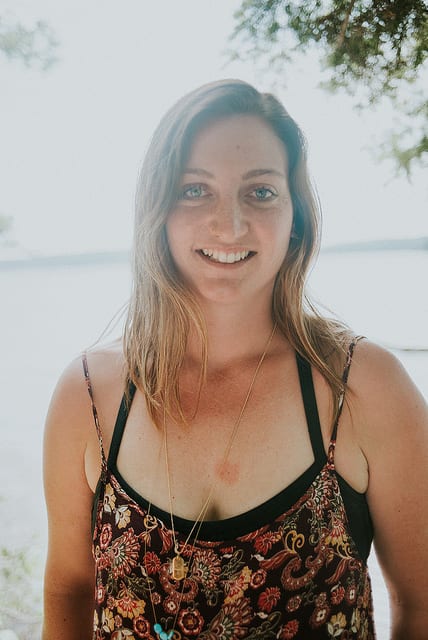 Courtney Sinclair
Leadership Coordinator, Retreat Facilitator
Courtney would tell you that her first SUP/yoga retreat experience at the Edge literally shaped the trajectory of her life. As a Paddle Canada Advanced Flatwater SUP Instructor/Trainer, Court has guided expeditions internationally for clients from over 20 countries. In addition to facilitating a variety of experiences at the Edge including her own SUP retreats, Court acts as our Leadership Coordinator to support our growing community of leaders in reaching our potential together through training, connection, and co-creation of transformational retreat experiences.
---
In short: Spaces are limited. When you book a retreat with us, a non-refundable deposit (50% of your overall balance) reserves your space and allows us to plan accordingly. Remaining balances are due 15 days before arrival.

Deposits protect our group-based experiences by acting as a commitment from our guests. If you need to cancel your visit, the timing of your cancellation will determine the level of flexibility we can offer in rescheduling your visit or holding your deposit as a credit to be used in the future. Please refer to our full deposit and cancellation policy for more information on our policies, timelines, and the commitments we make based on your registration.
Edge guests are well nourished and experience mealtime itself as a program element, with storytelling to introduce the seasonal flavours of the region and the relationships with the folk who grew and raised the ingredients close to home. Cooking at the Edge focuses on balancing globally far-flung tastes with provincially produced foods. Meals are served buffet style and are guests often enjoy lakeside dining outdoors when the weather allows it.

Over the years we have met many diverse dietary needs. Guests are invited to identify their dietary needs & preferences as a part of the registration process, and those with restrictions love the options we provide.
We offer unique, tailored experiences that flow as our facilitators respond to the interests of our guests, seasonal conditions, and special opportunities that may arise.

Each retreat at the Edge features healthy doses of dreamtime, adventure, community, creativity, time spent in nature, and a dash of surprise. Guests always have the choice to take solo or rest time in lieu of planned experiences.

While a detailed itinerary is not available, you can count on and prepare for the activities used to describe the flavour of this retreat. Meals are generally served at 8:30, 12:30, and 6pm. When appropriate, optional early-morning or late-night experiences may be offered.
Arrival time is between 2 – 3 pm with programming beginning at 3:30.  We encourage our guests to arrive on time and stay to experience the full retreat, which generally ends after brunch on the final day. Please let us know if you expect to arrive after 3.
We'll be spending time both indoors and out in nature, and we invite you to dress appropriately for the season to stay comfortable, warm, and dry. There's no dress code and most guests wear their "retreat-casual".

We encourage guests to bring a surprise to share with others – this might take the form of a game or activity, an instrument/song/poem, or a tasty treat.
Custom Dates Available for groups of 10+
Are you Ready to make some long-lasting wellness changes in your life?
Join the Habit Reset & Wellness Retreat to get started.
Time, energy, care, and attention to ourselves is the most important investment we will ever make as our mind and body is our principal asset. We can create abundant lives, full of richness in energy, health, happiness, resiliency, and joy through the implementation of core habits. Compounding healthy habits we act in the interest of our best selves, seeing a return on our investment in all areas of our lives, expanding our potential for "Wellth"
Explore Accommodation Options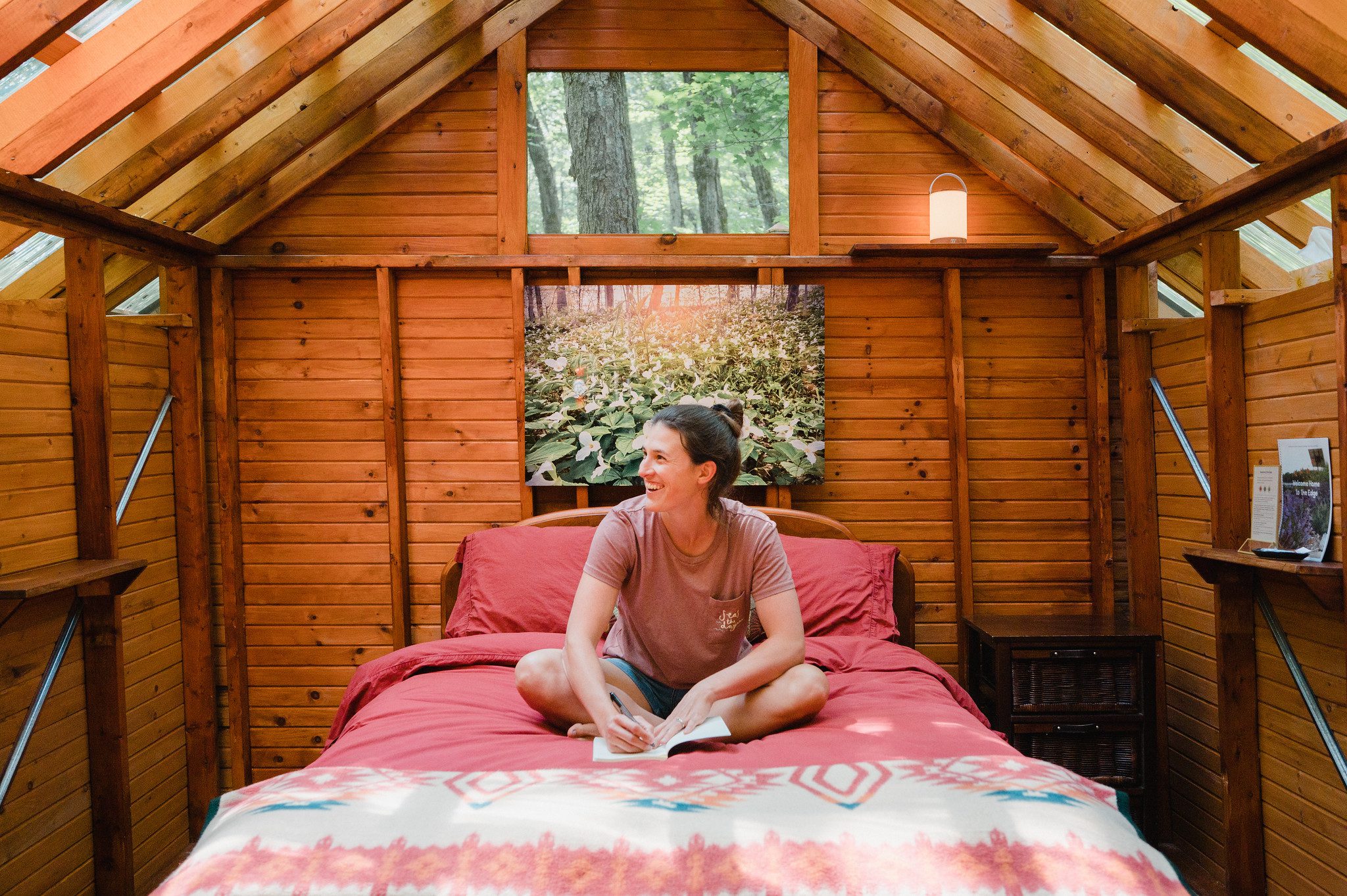 Canopy Cabin
Simple, clear-roofed cabins bring participants closer to nature, just a short walk away from main programming spaces and amenities such as showers and flush toilets. Each canvas cabin features a double bed, ideal for solo travellers or couples.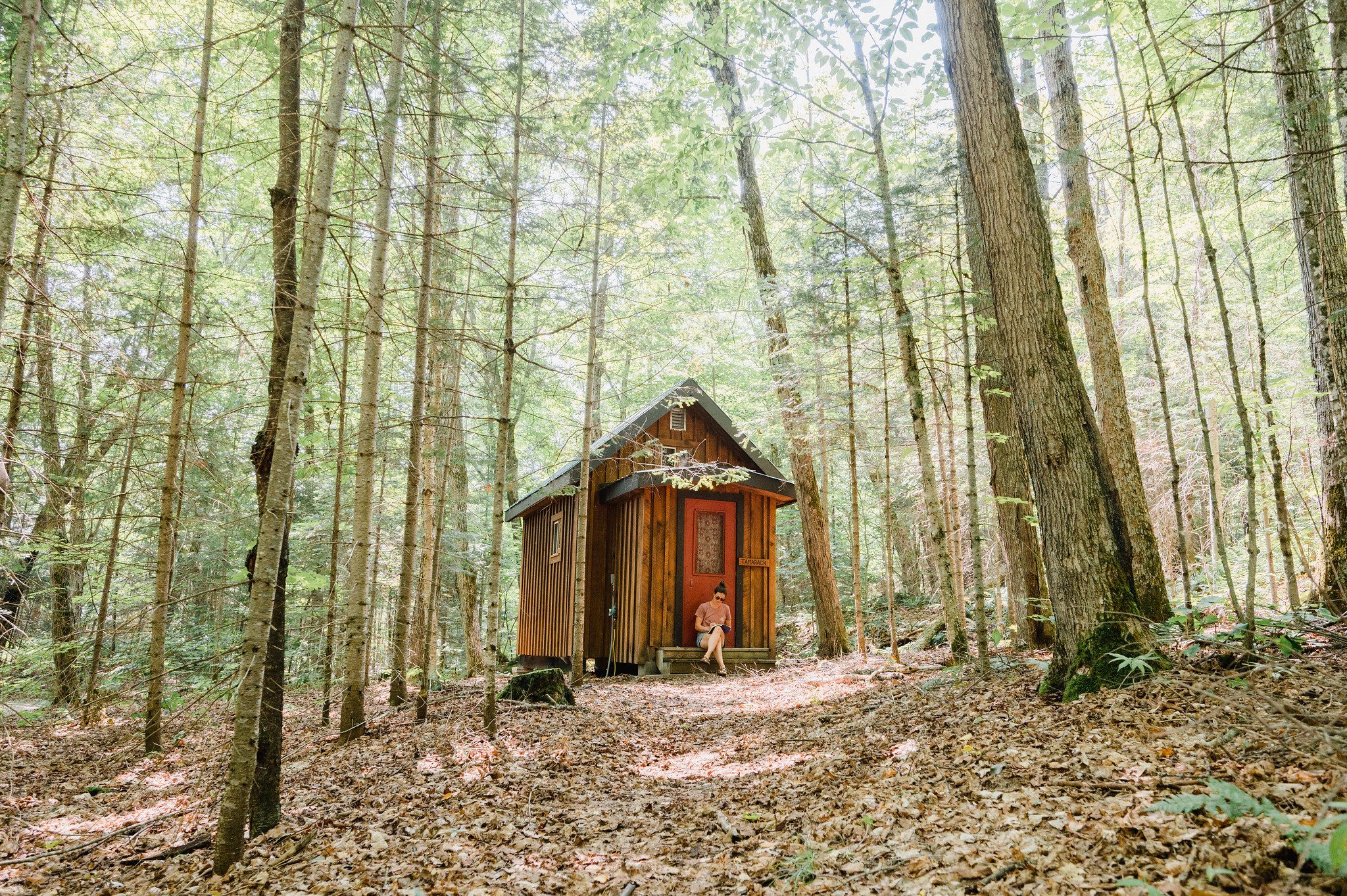 Habitat Cabin
Cozy, rustic habitat cabins are located just a short walk away from main programming spaces and amenities such as washrooms and showers. Each offers a loft double bed above 2 single beds, making them ideal for sharing with friends or other participants.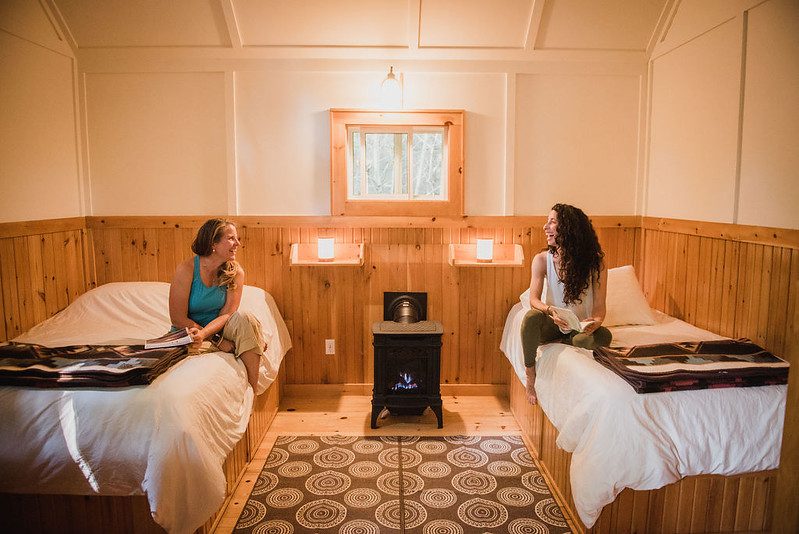 Studio Cabin
Comfortable & spacious eco-friendly studio rooms are located just a minute's walk away from main programming spaces and showers. These feature a small en-suite bathroom with a composting toilet. Both a double bed and a single bed make them ideal for couples or friends.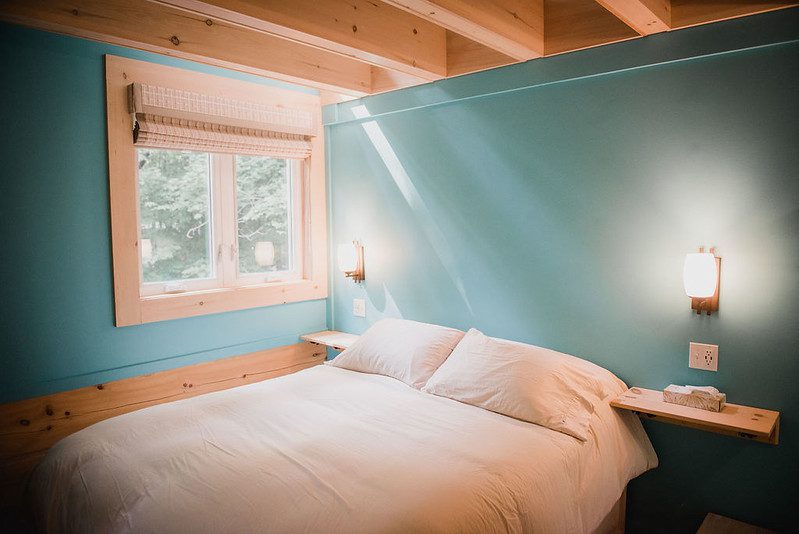 Log Cabin Bedroom
The luxurious and comfortable log cabin is located a bit further from main programming spaces for optimal rest, and features en-suite bathrooms with showers. Each room's Queen bed can convert into two twin beds, providing flexibility for solo travellers, couples, or friends.
View Our other retreats
Discover balance with our Yoga & SUP retreat in Algonquin Park, uniting mindful movement, nature,…