A well planned and executed corporate retreat is a great way to get team members excited and engaged by tapping into their aspirations to contribute to something important. How does your business transmit your core values and purpose to team members? Is there room for individuals to contribute their best skills, talents, abilities and connections to help your organization meet the needs of your clients in transformative ways?
You may agree that companies investing in community, rejuvenation, and connection through off-site meetings and team building experiences produce greater quality, higher levels of output and display more innovation and resilience in difficult times. But where to begin?
If you're wondering how to plan a corporate retreat, we recommend downloading our ultimate guide to corporate retreat planning. Download it here!
Before you start planning:
Planning a retreat may be easier than you think. Retreat venues like Northern Edge Algonquin often have teams in place that can help you to prepare an amazing team building retreat proposal and turn that into an amazing experience for your team. There are a few things you'll need to know when you reach out to a venue and decide your retreat location:
What is the purpose of your retreat? Are there basic goals and objectives that your organization is hoping to achieve? You can be more detailed about this later, but having a basic goal to communicate to your venue is key. It can be as simple as "team-building and connection!"
Do you have a budget for meals, accommodations, activities, and transportation? Consider how many people will be attending your retreat. Is it for all employees or just leadership? The average cost of a corporate retreat can range considerably depending on the level of comfort and privacy your team desires. Be sure to seek out options that fit your budget.
When and for how long are you looking to hold your retreat? For many retreat venues, summer dates are in high demand so you might want to plan earlier than later. "Shoulder season" retreats in Fall & Spring can be a better fit for corporate groups.
Once you've received a quote or proposal from a few locations, you can come together with the decision-makers in your organization to choose one and place your deposit, commit to your dates. That's where the fun really begins:
If you're working with a centre like Northern Edge, they will be able to take on the management of an agenda, programming & activities, mealtimes, accommodation planning, and more – but they will need some help from you!
Once you've got the ball rolling:
Get the team involved: Your team will need to get on board and have an opportunity to contribute their insight and ideas for the retreat. They also likely may need to submit things like dietary needs, health needs, rooming requests, and your venue may be able to provide a form to collect all of the above. You can get the process started with a "Save the Date" email, followed by a more formal invitation including a form to collect the necessary details from each attendee.
A few examples of pre retreat staff survey questions:
What barriers does our team or organization face in accomplishing our goals?
What company values might our work community need to learn more about?
What experiences would you like to share with your co-workers?
---
Objectives: The leadership within your organization may also wish to contribute specific goals or outcomes they would like to achieve – be sure to communicate these to the facilitator of your retreat. There may be meetings or processes that your organization will like to run themselves as a part of your retreat, so be sure to set aside time for this in the agenda and prepare any materials you will need.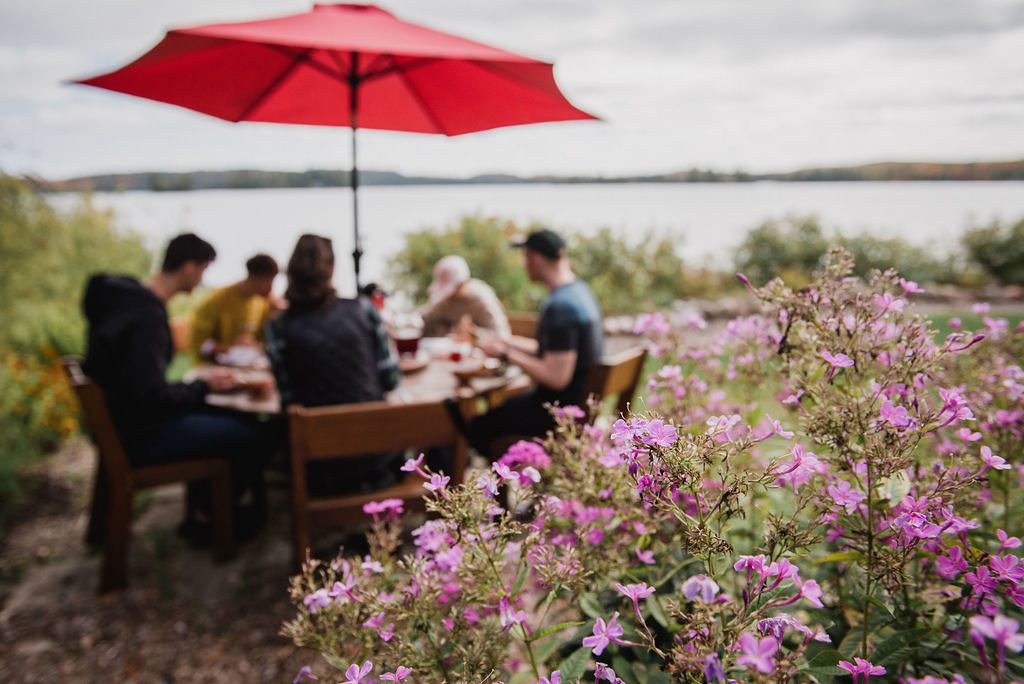 Transportation: While your venue and facilitators will manage and plan the majority of your retreat and agenda, it will be important for you to confirm transportation details. Perhaps you'll cover attendees fuel costs, encourage carpooling, or purchase bus, train, or airline tickets.
---
Add a cherry on top: Is there a special surprise you can bring or include that comes directly from your organization? Perhaps swag bags, a special gift you can raffle off, a specific activity you'd like to contribute to the experience. Go wild and delight your team with something special!
---
Evaluation & follow up: Plan ahead to evaluate the effectiveness of your retreat. You may wish to have everybody fill out a form at the end of the retreat to gather feedback from team members, and you might have a later follow-up to measure progress towards your goals. In your follow-up, be sure to provide opportunities for your team to continue building on the skills and connections that were developed during the retreat.
A few examples of post retreat staff survey questions:
What was a key takeaway you learned during our retreat?
How might you approach your work differently after our retreat?
If we go on another retreat, what would you suggest adding to the experience?
Conclusion
There are many factors to consider when planning your corporate retreat, whether you are looking for week-long or one day company retreat ideas. You can make the process easier by partnering with an amazing Corporate Retreat Venue who can take care of most of the details on your behalf.
Now that you have an understanding of how to plan a corporate retreat, check out these amazing corporate retreat ideas: Learn what ideas work with your team.
Learn why Northern Edge Algonquin is a great retreat venue.
Want help? Work with the Edge and get an amazing all-inclusive corporate retreat planned for you. Start planning.

Are you looking to plan the ultimate corporate retreat?
Our comprehensive guide walks you through everything from picking the perfect location, planning activities and team games, creating meaningful agendas, and more. With years of experience in hosting executive retreats, delivering team-building and strategic planning retreats – we know what it takes to make your corporate retreat one that will be remembered for years to come. 
A copy of our Corporate Retreat Planning Guide is on its way to your inbox.