Our Algonquin Park Accommodations
We provide a variety of accommodation options to meet the needs of guests participating in scheduled retreat programs or group experiences at our Algonquin Park home. Different from a hotel: accommodations at the Edge are simple yet comfortable: a place to rest your head at night after a day of adventure, dreamtime, creativity, community, nature, and wonder. There is limited availability for each room type. Register early to save your space!
All Accommodations Feature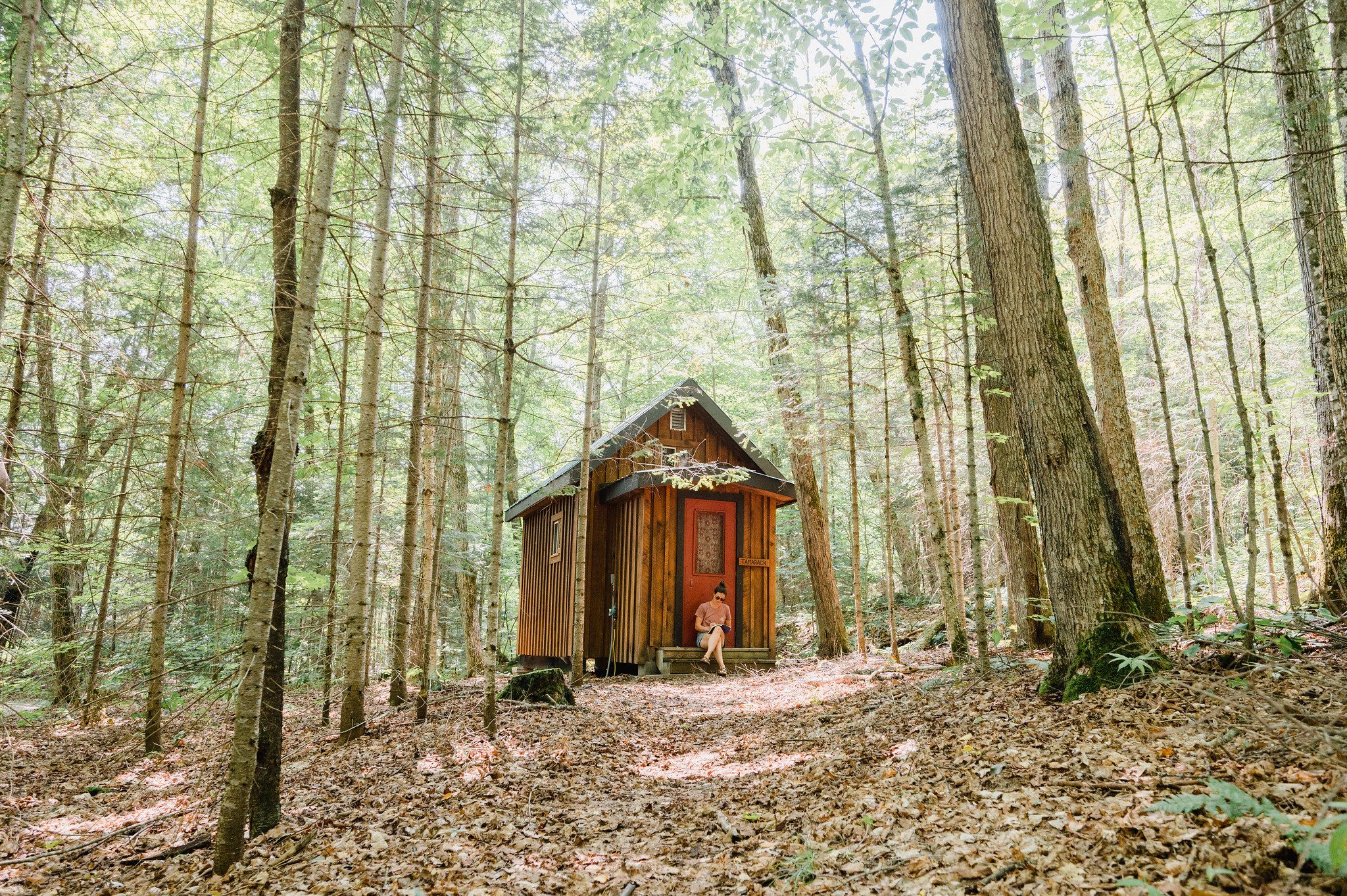 Accommodation Styles
Choose your level of comfort:
Canopy Cabins
Wish upon a star before bed, fall asleep to the sound of the loons calling, and rise with the morning sun as it naturally lights up the forest canopy above your clear-roofed cabin. Formerly called "Canvas Cabins" to reflect their origin as walltents, we've recently given them an exciting upgrade! These simple & clean wood cabins are surrounded by the lush greenery of our Ontario Retreat Centre at the edge of Algonquin Park.
Nestled on the hillside, our glamping-style accommodations bring you closer to nature, and are named to match. Ladybug Lounge, Loon Echo and Lily's Pad are just the right size for a couple to share, while our original honeymoon suite, Moonbeam, and it's twin Firefly are a bit cozier, and are best for solo travelers. Each cabin boasts comfortable feather duvets and colourful linen sheets on double beds.
Canopy Cabins are just a 3-minute walk from main programming spaces, bathrooms, and showers. As these accommodations are unheated, they are available only May through September.
Habitat Cabins
Located centrally and surrounded by the maple and balsam fir forest, these cozy bunkies were our first year-round accommodations and are the best choice for friends who want to feel like they're going back to summer camp together.
Osprey and Tamarack feature 2 single beds plus a small loft with a double bed, topped with feather duvets and colourful linens, and are most-suited to sharing with 1-2 friends or other participants. This is our lowest-priced option and shared spaces book up fast due!
Habitat Cabins are just a 2-minute walk from main programming spaces, bathrooms, and showers.
Studio Cabins
These spacious and comfortable eco-cabins are centrally-located and feature en-suite eco-bathroom features a composting toilet & running water. Studio Cabins are ideal for sharing between participants, whether you are coming with a friend or open to sharing with someone new. They are available year-round.
Tranquility, Balance, Harmony, and Dreamtime are some of our most popular cabins! Each is equipped with a double bed and single bed. Bear's Den Studio Suite is our 5th Studio Cabin with all the same features, a little extra space, and 3 beds in semi-private cubbies. Groups of 3 and participants in shared accommodations are occasionally upgraded to Bear's Den.
Studio Cabins are just a 1-minute walk from main programming spaces, flush toilets, and showers.
Dreamer's Hill Log Cabin
Anchored at the top of our trail overlooking the forest, Dreamer's Hill was created to offer a little more comfort than other options while keeping in sustainable balance with our use of space and resources. The shared cabin features a small gathering area surrounding a gas fireplace for guests looking to visit or read a book, and a corner for preparing tea or hot chocolate.
The eco-luxe, colourful bedrooms in Dreamers' Hill are our most comfortable rooms available (and our only accommodations featuring private showers – not an easy feat running on solar power)! The bedrooms Amethyst, Labradorite, and Citrine come equipped with a 3pc private en-suite bathroom with showers, while Jade and Sodalite share a fourth semi-private bathroom & shower. Each room has a queen bed that can be converted into two twin beds, giving us lots of flexibility with sleeping arrangements.
Note: The bedrooms in Dreamer's Hill are priced the same, based on easy access to these amenities, and are filled on a first-booked, first-accommodated basis. If it is important that you do not share a bathroom with another participant, book early and be sure to mention it.
Dreamer's Hill is a 6-minute uphill walk from main programming and dining spaces.
Pricing
All-Inclusive Edge Fees: Our per-person rates include accommodations, our renowned group meals, snacks and beverages, group use of facility/spaces, program materials & equipment, and other hosting services. These are net rates offered to groups as well as individuals signing up for group experiences, and are priced based on the duration of the retreat.
These Edge fees are then paired with applicable Retreat Program Fees (which differ per retreat based on the programming and facilitation needs) to create a range of all-inclusive, per-person prices for that experience based on participants' choices of cabin style and shared or private room.
Flat-Rate Group Pricing: Our tiered options are the best fit for most retreats. Planning an event with a need for standard pricing & amenities across the board? Let us know your needs and we can work with you to identify a flat per-person rate for your group.
When selecting your accommodation during registration, participants have the option of choosing a solo room at private rates, or sharing a double or triple room with another participant at shared rates.
Solo travellers who choose shared accommodation are paired with one or two others to foster friendships and create space for more participants to join a program. When couples or friends book and stay together, they access shared accommodation rates in a private room together with no additional roommates. Our top cabin choices for shared rooms are Studio Cabins and Habitat Cabins.
Solo travelers who choose private accommodation will have a sleeping space all to themselves. Please keep in mind communal and multi-room spaces like Dreamer's Hill are still shared. Our top cabin choices for private rooms are Dreamer's Hill and Canopy Cabins.
Frequently Asked Questions
Find your Next Retreat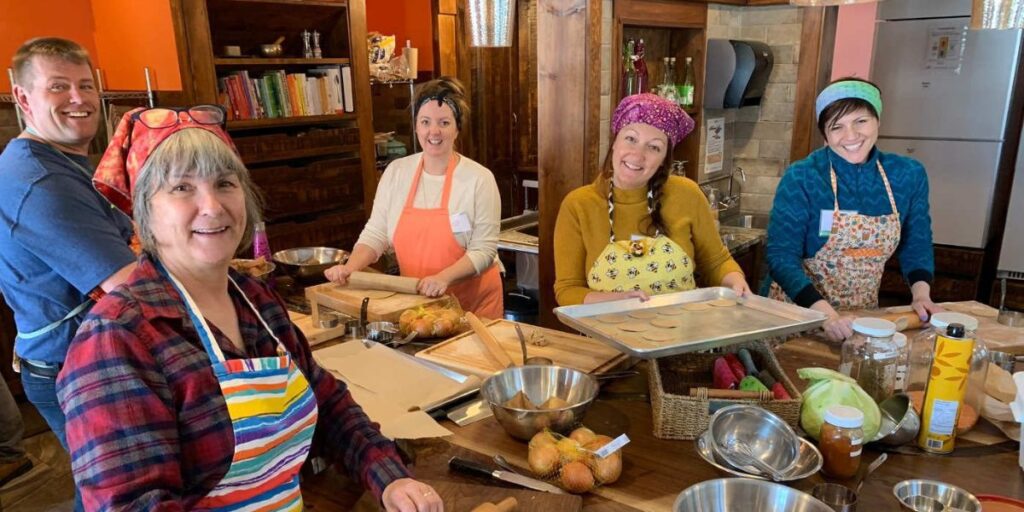 Recharge at the Heartlines Retreat: prioritize mental health, rejuvenate in nature, and…