"Should I offer an early-bird rate for my retreat?" "Should I do a special promotion for boxing day?" "Should I set up a discount code for last year's participants?" These are the questions I hear pretty commonly from our retreat planner and facilitator partners. We've been around the block with our retreat promotions, and I have to wonder if these tactics work and if there is a better way. (Spoiler alert: There is – Read on for some tips!)
Everyone loves a deal, and retreat-going communities are no different. The Edge has tested all kinds of special offers and promotions to fill our programs. I've managed our promotion and advertising tactics since 2014, and here are my personal learnings:
When we offered early-bird pricing, we made more work for ourselves and didn't notice any particular shift in our retreat numbers.
When we offered discount codes, our inquiries became more price-conscious and started outright asking for discounts. Our audience seemed to value our worth less when this was an option.
When we offered flash holiday sales, people caught on quick and started waiting for big sales before registering.
I see these habits in myself as a consumer as well. I recently held off a few large purchases and waited to see if there would be Black Friday or Cyber Monday deals. Whenever faced with a "discount code" field, I spent 10-15 minutes searching for a deal via Google or Honey. As a consumer, these habits can pay off big time — and as a business owner, it's up to us whether we feed into these trends.
---
When developing our new registration system, I made a decision not to incorporate a question asking for a referral or discount code. I was piloting a new direction:
Our guests appreciate the value we have to offer, and it is up to us to stand strong in that value. We invite our retreat planner & facilitator partners to consider their own value, and charge accordingly. At the end of the day, when a guest is paying $1199 plus for a retreat, $50 here and there isn't going to make much of a difference. If pricing is really an issue for someone, you can always work something out at your discretion.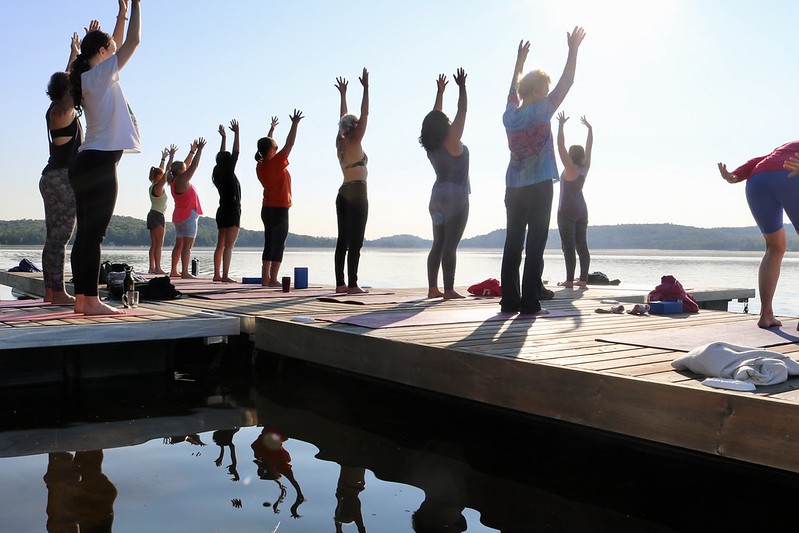 ---
Solutions to inspire earlier booking and price options, that I think are better than incorporating an early-bird:
Tiered Accommodation Rates
At the Edge, we have a tiered pricing system for accommodation types that meet guests varying preferences regarding amenities and level of privacy. It's possible for somebody to come to a retreat and share a canvas cabin with another participant at a relatively low rate, and it's possible for someone else to come to that same retreat and pay much more for a private bedroom and private shower.
We provide choice — and each option has limited availability. That means that guests who want the cheapest rate, need to book early to secure it. That also means that guests who want the cushiest bedroom need to book early as well! We encourage our partners to describe rates in this way to inspire early-booking in your audience.
Choose-Your-Own Program Fee
Some retreats offer a "choose-your-own" tiered rate for a program fee. If you'd like, you could give your community the choice of paying, say, $150, $300, or $425 for the program fee. It's fairly simple to set up in our registration forms, and would allow for your lower-income and higher-income guests to enter at their comfort level and show you how they value your offerings. It's a risky option, but if you really value equity it can be a way to demonstrate that value to your community.
Promotions and Packages that Add Value
My favourite option for special promotions (like for boxing day!) is to offer a package that adds value to what your clients receive, rather than taking away cost.
Bohemian Bliss Yoga recently offered an early-bird incentive for Kandra's winter yoga retreat at the Edge by giving a free BBY Hoodie to everybody that registered by a certain date — and as a result her retreat filled up super quick! In my opinion, this works better than a discount because you're offering a product that people will literally miss out on if they don't register.
I myself recently subscribed an in-depth yoga arm balancing training on the day they launched their program because they offered a 1:1 session over zoom and a free t-shirt to everyone that signed up in the first 24 hours. The price wasn't going to change after that 24 hours, so if I was going to sign up I wanted to be sure I got my money's worth!
Here are some ideas of ways you can add value to an early-booking package:
Welcome kits featuring local products or items representing your brand.
Additional services (free half-hour coaching call, free week of online or in-studio classes.)
1:1 services during the retreat: Reflexology, Reiki, Coaching Sessions (great option when there are multiple facilitators, so that this doesn't distract from the group experience.)
Gift card to be used for sessions, classes, or in your studio shop (or, hey, a gift card to the Edge gift shop!)
At the end of the day, your clients value what you have to offer and that is why they are choosing to attend your retreats.  The best way to get people to register is with consistent promotion, and extending personal invitations to your crew.  You are welcome to use whichever tactics you feel will work best, and we will do our best to support you!

Your Yoga & Wellness Retreat Planning Guide is Here!
Explore the ways we can grow and learn together, sharing advice and stories about developing facilitating, marketing, and building retreats and wellness communities.
A copy of our Yoga & Wellness Retreat Planning Guide is on its way to your inbox.