"Do what you do best, and partner for the rest!"
---
planning a retreat at the Edge is all about partnership:
The Edge is much more than a rental venue for retreats – we are a centre that actively partners and co-creates with guest facilitators to create the most supportive experience possible, for both you and your guests!

Before your visit, this collaboration happens with our program coordination team. We support you with scheduling specialty elements of your retreat, planning accommodations, ensuring guest needs are properly communicated to housekeeping and mealtime teams, and we're there to share in your excitement, help boost your promotions, and lend our insight and experience when questions or bursts of inspiration come up.

About a month before your retreat, we will set up a "Facilitator Connection Call," which is an opportunity to meet your Edge Co-Facilitator and begin to learn how you can work together and co-create. We do our best to connect you with a leader who will be a complement to your own style and personality, with skillsets to fulfill your retreat vision. When it comes time for you to arrive at the Edge, our coordinator team will step back and the facilitation team will take the reigns together.

Edge Co-Facilitators are connectors and co-creators who help bring your retreat vision & inspiration to life while honouring and supporting both the guest experience and the Edge's values.  The Edge Co-Facilitator is your not-so-secret ingredient to creating a magical, meaningful, and memorable retreat experience, and is one of the biggest benefits of planning a retreat with the Edge!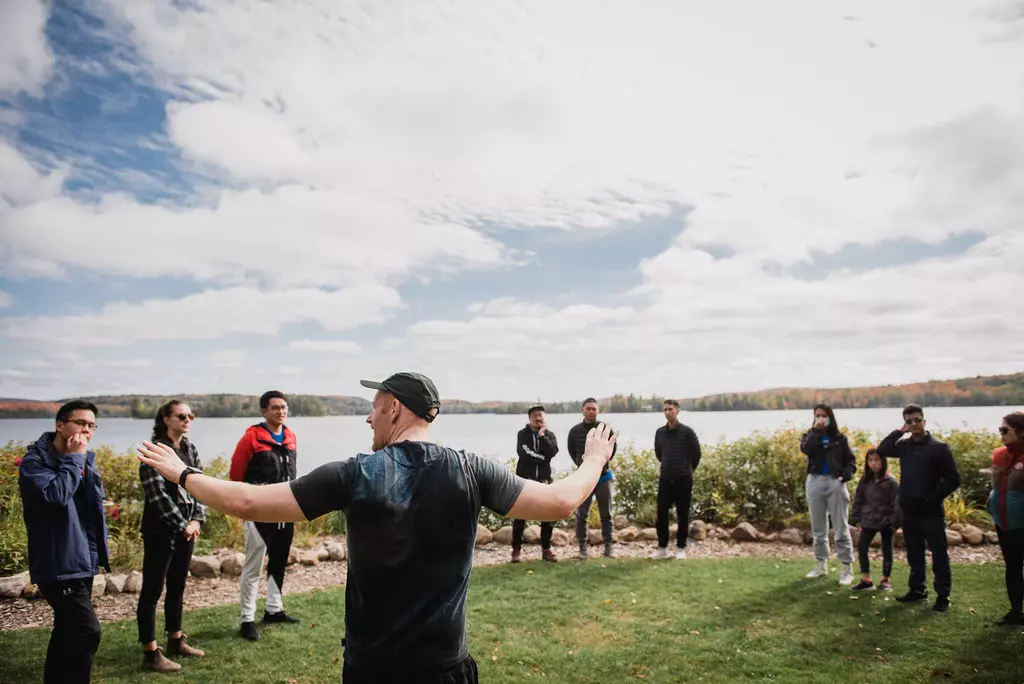 "My Edge Co-Facilitator makes the difference between my retreats burning me out or filling me up. This person always has my back and I have theirs. It is such a unique and crucial feature to the Edge! This collaborative vision is one that everyone benefits from."
– Allie Chisholm-Smith, Retreat Facilitator and regular collaborator of the Edge
---
What will my Edge Co-Facilitator Do?
With their finger on the pulse of the Edge, our facilitator team understands and is ready to share the best that the Edge has to offer. They assist in curating enhanced programming and activities to make the most of the weather, special opportunities, spaces, materials, and group energy & dynamics to help fulfill our suggested retreat recipe (including elements of Adventure, Dreamtime, Community, Creativity, and Nature). They are skilled in offering heart-centered and nature-based experiences while holding safe space for guests to explore their edges. They are communicators who carry important insights and information for you and your guests, and connectors who bridge the gap between you, the guests, and our team.
Who can be an Edge Facilitator?
That's right – these are the very same "Edge Facilitators" we call on to deliver our signature programming. We call them Co-Facilitators when they partner with you to help your retreat.
Outside of their work at the Edge, these leaders are often masters of their own craft (yoga teachers, paddleboarding or canoe instructors, writers, artists, nature guides, storytellers, wellness and personal growth coaches). It is through planning & hosting retreats, attending retreats and training programs, and facilitating NEA's signature retreat programs that they have built deep & long-lasting relationships with our centre and team. Over time, facilitators working with us naturally develop their capacity for transformative leadership and evolve their experience working with groups of all types.
As a guest facilitator coming in, whether it is for a first experience at the Edge or a repeat one, we want you to benefit from these relationships and learnings right from the beginning. By acting in the spirit of partnership, Edge Co-Facilitators can both support you and help ensure a top-notch experience for every guest. After some time, you might even feel called to deepen your relationship with the Edge and fill this role for someone else one day.
---
The Benefits
With an Edge Co-Facilitator at your side, you can focus on doing what you do best. For example, lead your wellness or yoga programming and sit back and relax as they take over for a hike or paddling excursion.

Guest Facilitators and Retreat Planners who partner with the Edge often remark afterward that they leave our centre feeling as restored and cared for as their guests – this is due to the partnership with our Edge Co-Facilitator. The more open you can be to partnership, the more you will experience the benefit! Don't worry – as the Guest Facilitator it will still be your program and you can steer it the way you want. You just don't have to carry the load all by yourself.

We'll aim to host a connection call between a member of our team, yourself (the guest facilitator), and the assigned Edge Co-Facilitator about a month before your retreat as a starting point so that you can share some ideas ahead of time. On arrival day, they will become your main point of contact until the end of the retreat.
---

Your Yoga & Wellness Retreat Planning Guide is Here!
Explore the ways we can grow and learn together, sharing advice and stories about developing facilitating, marketing, and building retreats and wellness communities.
A copy of our Yoga & Wellness Retreat Planning Guide is on its way to your inbox.